'Game Of Thrones' Spoilers: Will Sansa Stark Be Pregnant With Ramsay Bolton's Baby In Season 7?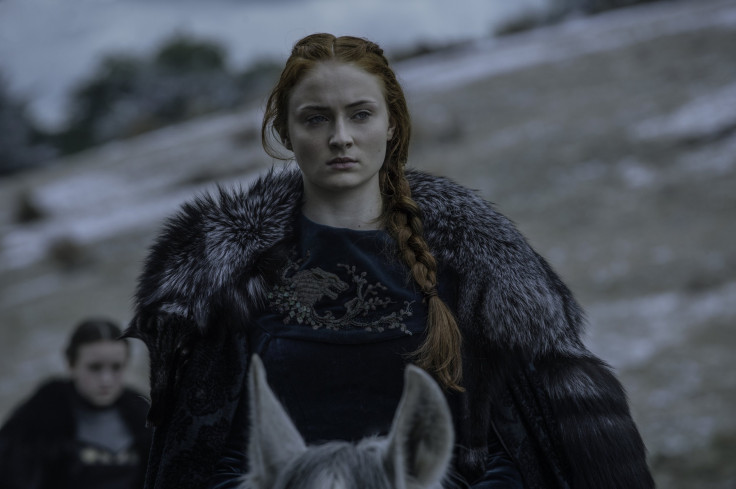 "Game of Thrones" fans have been frantically awaiting the arrival of Season 7 for a number of reasons. Not the least of those is, of course, the get the answers to burning questions that remain after Season 6 — like what exactly Ramsay Bolton meant when he told Sansa Stark he was part of her before his death.
While most thronies assumed it was a sure sign that the eldest Stark girl was carrying the spawn of the Bastard of House Bolton, it seems that may not be the case after all. Spoiler group Watchers on the Wall has confirmed that Sansa will not be with child in Season 7 of "Game of Thrones." Instead, she'll be busy holding down the fort in Winterfell while Jon Snow (Kit Harington) is out galavanting with Daenerys Targaryen (Emilia Clarke).
Actor Liam Cunningham — who plays Ser Davos in the series — previously touched on speculation of a Sansa-Ramsay baby in an interview with Huffington Post. In June 2016 he shared his feeling that Ramsay's (Iwan Rheon) comment was meant to symbolize the psychological effects his abuse would have on her. He joked that there's no way Ramsay could have known whether or not Sansa (Sophie Turner) was expecting prior to his death, as he didn't have "one of those 'Game of Thrones' pregnancy sticks."
"I think, I would imagine, it's open to whatever you want it to be, but I think he's saying he's put himself into her head. That's what I took from it. She's never gonna get rid of him because of what he's done to her," Cunningham told Huffington Post. "He knows what he's done to her. It was off camera, what he was doing to her, but we all know what it was. But I think he's placed himself in her soul for all the wrong reasons."
It's likely a good thing Sansa won't be pregnant in Season 7 of "Game of Thrones," because she's going to have a lot on her plate. On Nov. 7, it was reported that a fan had somehow managed to get their hands on the entire plot of the upcoming installment of the HBO original series. The series outline was subsequently leaked on Reddit, though there has been no confirmation that the information leaked is accurate. Still, it's filled with exciting potential plot points including a confrontation between Sansa and little sister Arya Stark (Maisie Williams).
The Stark siblings have been separated since Season 1 of "Game of Thrones," but that will reportedly change in Season 7. Arya, last seen at Walder Frey's (David Bradley) manor, will make her way to Winterfell, which Sansa has been left in charge of in Jon's absence. There, Littlefinger (Aiden Gillen) will reportedly attempt to come between the two sisters only to be outsmarted. Realizing that he's stirring the pot, Sansa — acting as Lady of Winterfell — will order his death. Arya is rumored to be carrying out the act, checking yet another name off her kill list.
"Game of Thrones" returns for Season 7 in summer 2017.
© Copyright IBTimes 2023. All rights reserved.