Is Gary Johnson At The Debate? Libertarian Live-Tweets Hofstra Showdown Between Clinton And Trump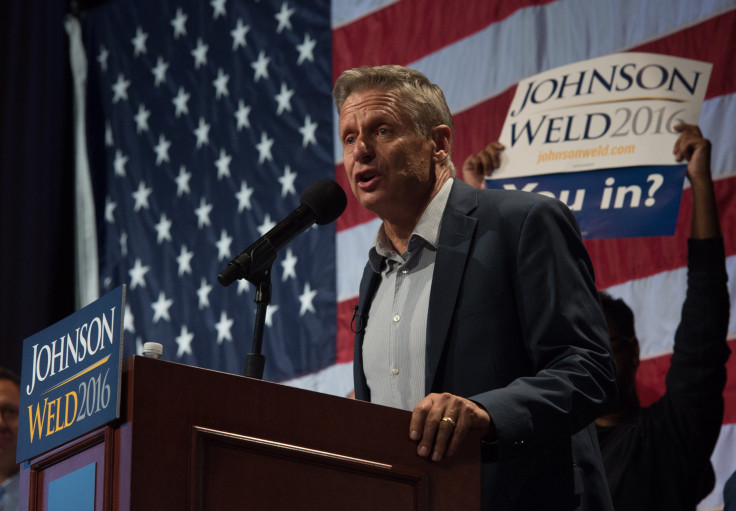 Libertarian candidate Gary Johnson may have not made the cut for the first presidential debate, but he surely plans on participating. Johnson and his running mate, Bill Weld, plan to be watching — and tweeting — live from Twitter's headquarters in New York City, according to their campaign website.
The duo "will be making themselves available to the media, watching the debate with great interest, and will be anxious to point out how a third voice, representing millions of independent voters disenfranchised by the Republican and Democrat parties, would better serve the American people," spokesman Joe Hunter told ABC News.
Johnson, like Green Party nominee Jill Stein, wasn't invited to the event at Hofstra University in Hempstead, New York, because his poll numbers were too low. When he goes up against Republican candidate Donald Trump and Democrat Hillary Clinton, Johnson sits at about 7.2 percent support nationally. In order to appear on the debate stage, he needs to hit 15 percent.
The Libertarian candidate — a two-time governor of New Mexico — has been pushing to reach that number for months. More than 1 million people signed an online petition requesting that the Commission on Presidential Debates allow him to join Trump and Clinton, but the group stood firm.
Undeterred, Johnson penned a piece for USA Today Monday outlining three questions he hoped the major party candidates would be asked at the debate. He wanted to ask Clinton about intervening abroad and possibly pardoning National Security Agency whistleblower Edward Snowden, Trump about American involvement in Mexico's War on Drugs and both nominees about social security.
Johnson is also looking ahead to subsequent presidential debates. "We have a winning message," he wrote in the New York Daily News. "We just need to get on the national stage to let voters know we exist."
© Copyright IBTimes 2022. All rights reserved.
FOLLOW MORE IBT NEWS ON THE BELOW CHANNELS