Gay Marriage Supreme Court Hearings: Strong Support From Rachel Maddow And 'Liberal' Media Drowns Out Opposition From Rush Limbaugh And Others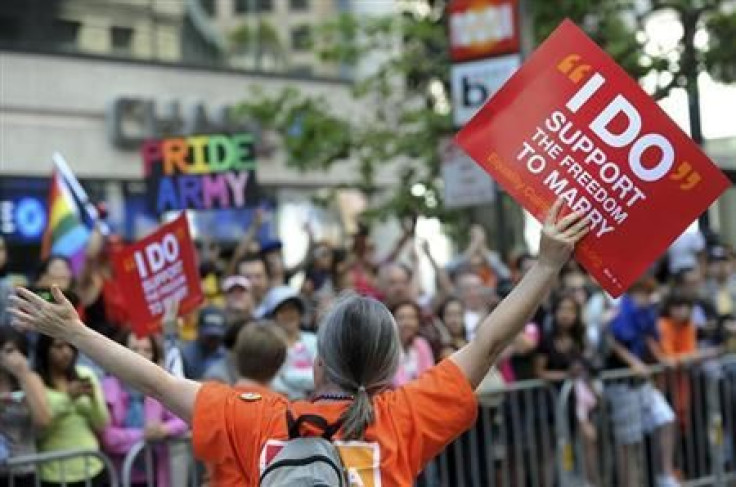 As the nation awaits imminent Supreme Court rulings on the legality of same-sex marriage, the news media is showing overwhelming support for the cause.
According to a new study by the Pew Research Center, news stories with more pro-gay marriage statements far outweighed those with more anti-gay statements opposing same-sex marriage -- by a margin of about 5 to 1, in fact. The study, released Monday as part of Pew's LGBT in Changing Times series, looked at 500 news stories published between March 18 -- a week before the Supreme Court hearings began -- through May 12. Among those stories, 47 percent focused primarily on support for gay marriage, while 44 percent were roughly neutral, according to Pew. Only 9 percent largely focused on opposition to gay marriage.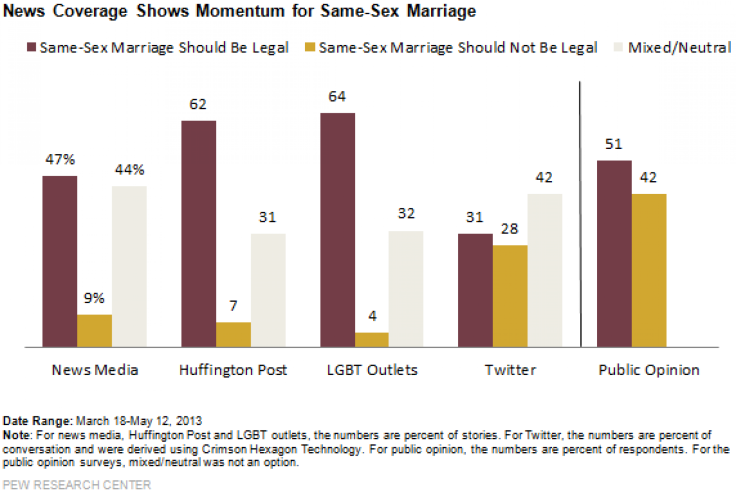 Perhaps not surprisingly, the Huffington Post, which has a section dedicated to gay voices, covered the issue more than any other media outlet -- so much so that it was covered separately in the Pew study. The study found that 62 percent of HuffPost's 365 gay-marriage-related articles voiced support for the issue, compared to only 7 percent that were opposed to it.
It was a different story on Twitter, however. According to Pew, tweets relating to gay marriage were much more evenly split during the same period, with 31 percent showing support for gay marriage, 28 percent expressing opposition, and 42 percent remaining mixed or neutral.
"The findings show how same-sex marriage supporters have had a clear message and succeeded in getting that message across all sectors of mainstream media," wrote Paul Hitlin, Amy Mitchell and Mark Jurkowitz, the study's authors.
Public opinion on gay marriage in the United States has shifted dramatically over the last two decades. According to Gallup polls, only 27 percent of Americans believed same-sex marriages should be legally recognized in 1996. Today that number is 53 percent. The numbers are even higher among younger Americans, with 70 percent of 18- to 29-year-olds believing that same-sex marriage should be legally recognized.
But regardless of your stance on gay marriage in America, you probably view it as a forgone conclusion. According to Pew findings released last week, nearly three-quarters of Americans say the recognition of same-sex marriage is "inevitable." That includes 85 percent of gay-marriage supporters and 59 percent of gay-marriage opponents.
The main news sample in Pew's study included a mix of six websites (including Politico, BuzzFeed and Gawker), 11 newspapers, news programs from the three main network news outlets along with PBS, and a mix of programs on the three major cable-news networks (CNN, MSNBC and Fox News), talk radio, NPR and syndicated radio headlines.
Perhaps the most encouraging finding in Pew's recent study is the sign that opponents are finally giving up the fight. According to the study, media commentators who support gay marriage -- Rachel Maddow and Chris Matthews, for instance -- spent more time discussing the issue than opponents like Sean Hannity and Rush Limbaugh.
Read the full Pew Research study here.
Got a news tip? Send me an email. Follow me on Twitter: @christopherzara
© Copyright IBTimes 2023. All rights reserved.