'General Hospital' Spoilers: Will Spencer Blackmail Nikolas For Custody Of Esme's Baby?
Spencer is convinced that neither Esme nor Nikolas should raise his new sibling, and on the Friday, Feb. 3 episode of "General Hospital," Spencer will take action to protect the newest member of his family.
In the ABC promo video, Spencer (Nicholas Chavez) asks why he keeps coming in second. "GH" spoilers reveal Spencer makes a stunning announcement.
In the previous episode, Spencer said Nikolas (Adam Huss) had managed to disappoint him even more than Spencer expected. Spencer then vowed that he wouldn't allow his father to hurt Spencer's new sibling.
Spencer has previously spoken to several people about trying to get custody of Nikolas and Esme's (Avery Kristen Pohl) baby. However, it appears he may put his words into action.
Viewers are aware that Spencer has a video of Nikolas confessing to pushing Esme off the parapet at Wyndemere Castle. Will Spencer blackmail his father to get custody of Esme's baby?
Elsewhere in the promo video for the ABC soap opera, Elizabeth (Rebecca Herbst) tells Finn (Michael Easton) that everything she did was all for nothing. "General Hospital" spoilers say Finn is left reeling.
In the previous episode, Elizabeth realized she could no longer trust Nikolas and decided to open up to Finn. Elizabeth then told Finn that she was never pregnant with Nikolas' baby.
Viewers are aware that Elizabeth ruined her relationship with Finn by helping Nikolas. After Nikolas learned Esme was pregnant with his baby, he held her captive at Wyndemere.
He later convinced Elizabeth to provide Esme with medical care. However, when Finn grew suspicious, Elizabeth ended their relationship by telling him she was pregnant with Nikolas' child.
It appears Elizabeth will be ready to come clean, but will she tell Finn the entire truth, or will she continue to lie for Nikolas?
Other "GH" spoilers tease that Blaze (Jacqueline Grace Lopez) confides in Chase (Josh Swickard), Laura (Genie Francis) tries to play peacemaker, and Austin (Roger Howarth) encounters Ava (Maura West).
"General Hospital" airs on weekdays at 3 p.m. ET on ABC.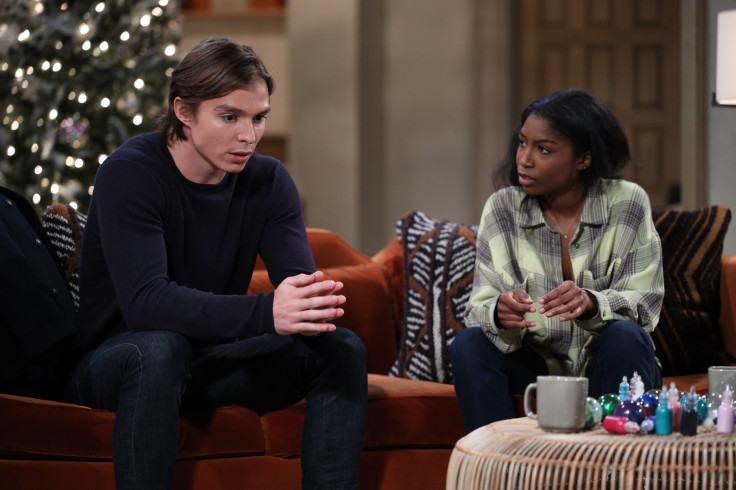 © Copyright IBTimes 2023. All rights reserved.