'General Hospital' Spoilers: Will Elizabeth Tell Finn The Truth About Nikolas And Esme?
Elizabeth's life has been spiraling out of control ever since she agreed to help Nikolas hold Esme captive, but on the Thursday, Feb. 1 episode of "General Hospital," Elizabeth may tell Finn the real reason their relationship ended.
In the ABC promo video, Elizabeth (Rebecca Herbst) realizes she needs to protect herself from Nikolas (Adam Huss). "GH" spoilers reveal Liz wants to talk with Finn (Michael Easton).
In the previous episode, Liz learned that Nikolas brought her mother to town to make sure (Esme Avery Kristen Pohl) doesn't regain her memory.
Viewers are aware that Elizabeth helped Nikolas when she learned he was holding Esme captive at Wyndemere. Elizabeth's decision ruined her relationship with Finn after she lied and said she was pregnant with Nikolas' child.
However, Elizabeth will be furious with Nikolas for asking her mother to suppress Esme's memories and realize it was a mistake to help him.
It appears Elizabeth may consider sharing her mistake with someone, but will Liz tell Finn she destroyed their relationship to help Nikolas with Esme?
Elsewhere in the promo video for the ABC soap opera, Nina (Cynthia Watros) vows that Britt (Kelly Thiebaud) will never be forgotten. "General Hospital" spoilers reveal Britt's loved ones gather for her memorial.
After Britt died from being cut by the hook killer's venom-laced blade, her loved ones were devastated. It appears Britt's friends and family will now come together to remember her life and medical career.
Nina will have a moment in which she reflects on memories with her cousin and makes a promise to Britt. However, she isn't the only one who wants to say goodbye to the doctor.
Liesl (Kathleen Gati), Brad (Parry Shen), Maxie (Kirsten Storms), Austin (Roger Howarth), Spencer (Nicholas Alexander Chavez), Trina (Tabyana Ali), and Terry (Cassandra James) will also attend the memorial to pay their respects to Britt.
Other "GH" spoilers reveal Heather (Alley Mills) concocts a new scheme, Brad makes a request of Selina (Lydia Look), and Laura (Genie Francis) pleads with Nik.
"General Hospital" airs on weekdays at 3 p.m. ET on ABC.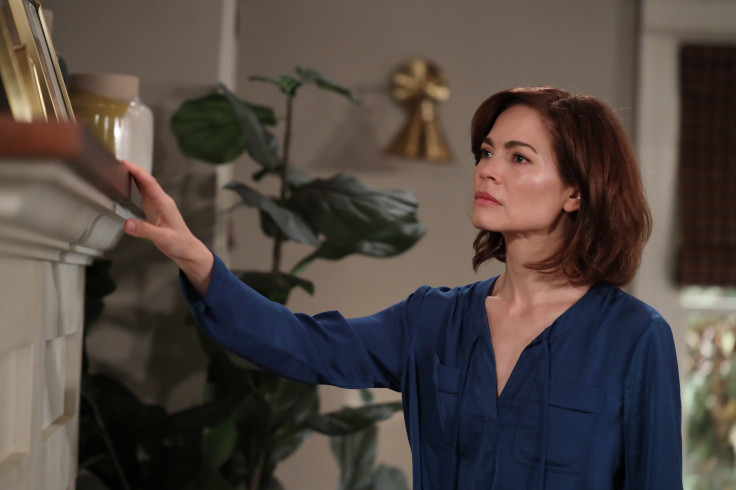 © Copyright IBTimes 2023. All rights reserved.