'General Hospital' Spoilers: Will TJ's Disappearance Speed Up Sam And Jason's Reunion?
Sam wants to help Molly reunite with TJ, but will soon realize the leverage she has over Jordan. On the Tuesday, March 17 episode of "General Hospital," Sam's attempts to track down TJ will cause Jordan to lash out.
In the ABC promo video, Jordan (Briana Nicole Henry) asks Sam (Kelly Monaco) if she has come up with anything, and she informs the police commissioner that she has. "General Hospital" spoilers reveal Jordan tells Sam to back off.
After Molly (Haley Pullos) rejected TJ's (Tajh Bellow) proposal, he stormed out of the restaurant, and she hasn't seen him since. Although Jordan claimed TJ wanted space to deal with Molly's rejection, Sam suspects TJ is missing.
READ: 'General Hospital' Spoilers: Will Michael Let His Family Kill Nelle To Protect Wiley?
Jordan knows Cyrus (Jeff Kober) is responsible for her son's disappearance but has been hesitant about letting others in on the truth.
It appears Sam will come up with a plan, but Jordan won't be happy about it. Will Sam offer TJ's safe return in exchange for an adjusted to her parole terms so can be with Jason (Steve Burton)?
Elsewhere in the promo video for the ABC soap opera, Harmony (Inga Cadranel) asks Jason what he is doing at Brando's (Johnny Wactor) new garage, and he replies that he was about to ask her the same thing. "GH" spoilers reveal Jason is wary.
Harmony was recently released from prison and promised Willow (Katelyn MacMullen) that she is going to make the most out of her second chance. However, it appears the former Dawn of Day follower may be wrapped up in some shady business.
Although Harmony will be quick on her feet and come up with an explanation for her trip to the garage, Jason won't believe her. Will Jason suspect Harmony is working for Cyrus?
"General Hospital" airs weekdays at 3 p.m. EDT on ABC.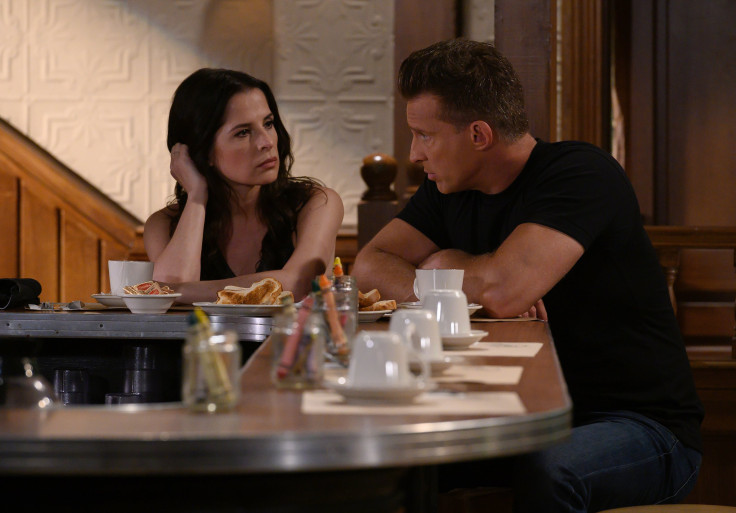 © Copyright IBTimes 2023. All rights reserved.