George Floyd's Supporters Furious After Death Is Compared To Wearing Face Masks
Protestors have been furious about George Floyd's death since May, but a new report from Utah has left them outraged after one woman compared the Minneapolis man's death to wearing a face mask.
On May 25, Floyd, a Black man, died while being arrested for reportedly using a counterfeit bill. During the arrest, Floyd was face down and handcuffed with officer Derek Chauvin's knee on his neck for several minutes.
In a video of the incident, Floyd could be heard begging for the officers to let him stand up and yelling, "I can't breathe."
On Monday, Floyd's name began trending on Twitter along with a clip from a news segment on ABC 4. The video covered residents in Utah calling for the end of a mask mandate and protesting at the Washington County Administration building.
While this isn't the first time people have rallied together for anti-mask protests, a comment from one of the attendees appeared to rub people the wrong way.
A St. George resident named Shauna Kinville appeared to compare wearing a face mask to Floyd's death.
"When George Floyd was saying 'I can't breathe,' and then he died, and now we're wearing a mask and we say, 'I can't breathe,' but we're being forced to wear it anyway," she said.
After the video began to trend, people took to Twitter to criticize the insensitive comment.
"This was a great example of what types of people are anti-mask: One comparing George Floyd's actual suffocation to having to wear a mask & gram gram's reason was that masks are loved by child molesters #ThisIsAmerica Its laughable," one person wrote.
Another person added, "This woman compared George Floyd's neck being stepped on to wearing a mask... I'm disgusted."
Meanwhile, one person revealed they were at a loss for words over the controversial comment.
"Speechless...... She really just sat there and said wearing a mask causes her not to breathe like George Floyd....... This is probably one of the most stupidest things I have ever heard in my life!" the individual wrote.
The school district will continue to implement the mask mandate ordered by the governor. However, parents who do not want their children wearing a mask or a face shield in school must fill out a form and a doctor's note, which will be reviewed by the district before a decision about the child is made.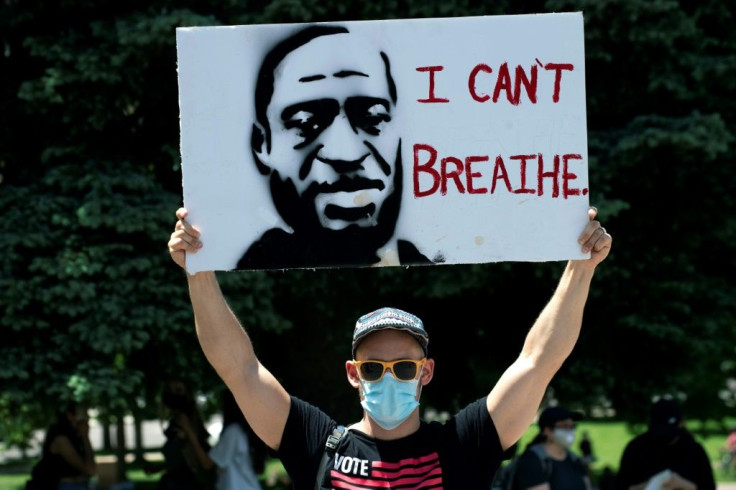 © Copyright IBTimes 2023. All rights reserved.