German Gunman Who Killed 9 Claimed Trump Took His Ideas
KEY POINTS
Gunman killed nine in Germany on Wednesday, mainly immigrants
Suspect claimed Trump took his ideas, including "America First"
The shooter's manifesto called for all nonwhites to be exterminated
A gunman who killed nine people in the German city of Hanau on Wednesday night had posted an online manifesto that provided some insight into his motivations and referred to President Donald Trump.
The attacker was identified by German media as 43-year-old Tobias Rathjen. He was quickly linked to a 24-page screed in which he explained his belief that there is a need for Germany to rid itself of nonwhites, according to Insider. He also identified himself as an "incel" – a short term for "involuntarily celibate," or someone who is involuntarily not sexually active.
Rathjen's manifesto also mentions Trump, accusing the president of stealing his ideas. "A billionaire in the USA is implementing my policy recommendation (even some slogans I developed like 'America First, Buy American and Hire American')," he wrote.
Much of the shooter's manifesto portrays him as possessing a questionable mental state, as it reportedly devolves into incoherent ramblings at times. It includes a number of racist remarks, including the false claim that people from countries in Asia, North Africa and the Middle East are fundamentally inferior to whites and should be "completely destroyed." He also described Islam as "destructive."
Most of his victims were Turkish and Kurdish immigrants who had moved to Germany.
The shooter also wrote that he had avoided sexual contact for 18 years over concern that it would expose him to government surveillance.
Trump has courted controversy over his recently expanded travel ban which now includes six additional countries, many with large Muslim populations, much like the original ban. The original ban was heavily criticized, dubbed by some as a "Muslim ban." Citizens from the countries listed on the revised travel ban will no longer be able to apply for visas to the United States, ultimately prohibiting permanent residency.
While White House officials have maintained that the banned countries were selected over security concerns, the policy has been accused of being motivated by xenophobic attitudes. Although the German gunman's manifesto doesn't directly reference Trump's travel ban, he appeared to argue that the American president's controversial policies were originally inspired by his own views.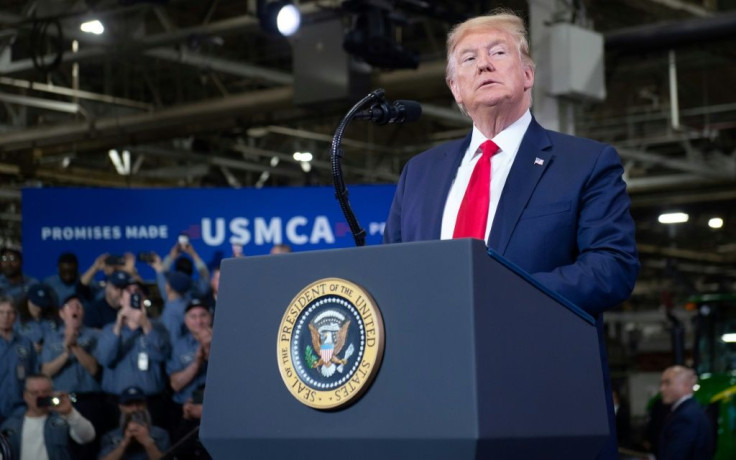 © Copyright IBTimes 2022. All rights reserved.
FOLLOW MORE IBT NEWS ON THE BELOW CHANNELS