Germany World Cup 2014: Argentina Or Netherlands? Who Does Germany Want To Face In The Final?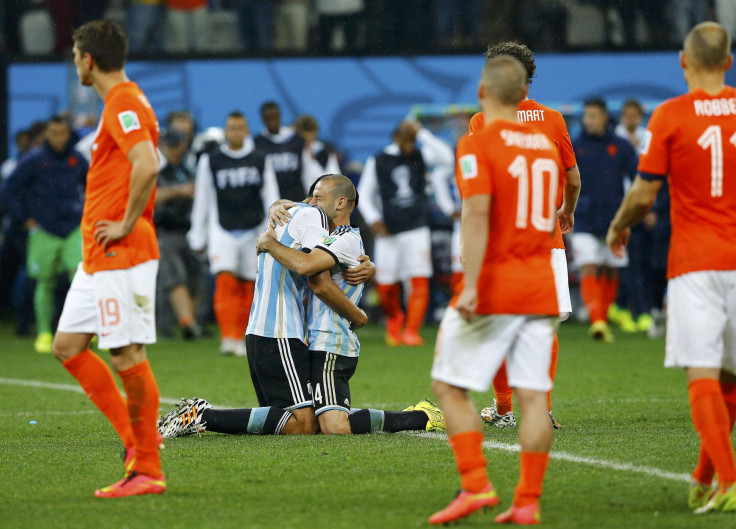 This story was updated on 7/9 at 7 pm.
After bouncing host-nation Brazil by an incredible six-goal margin in the semifinals, Germany will enter the 2014 World Cup final with loads of confidence.
But while manager Joachim Low's side should be ecstatic after their demolishing of Brazil, they might be wary of overconfidence, especially since they have such a deep World Cup history with both possible opponents in the title match. On Wednesday, Argentina advanced past the Netherlands after a 0-0 draw ended with a 4-2 advantage on penalty kicks. The German squad and coaching staff was no doubt watching with keen interest.
Led by rising star Thomas Muller and all-time World Cup goal scorer Miroslav Klose, Germany has fielded perhaps the most complete attack in the tournament. But a closer look at their victories prior to Brazil's meltdown could humble supporters' lofty expectations.
Yes, Germany began the tournament with a 4-0 trouncing of Portugal, but they held a 2-0 lead before defender Pepe was issued a red card and Portugal was forced to play with a man down for the final 53 minutes.
The Eagles fiercely battled with Ghana in their second match. Ghana's top attackers Asamoah Gyan and Andre Ayew kept up with Germany's stacked midfield better than any other World Cup opponent to earn a hard-fought 2-2 result. And though they didn't need a victory to secure a place in the knockout stage, Germany nearly folded to the overmatched United States in a 1-0 win.
Against an Algerian side that had never advanced out of the group stage, Germany wound up with a 2-1 victory but needed extra time to finish off the scrappy Foxes. Germany's attacking midfielders were largely thwarted by an astounding 20-save performance from Algeria keeper Rais M'Bohli.
The midfield again sputtered against rival France in the 1-0 semifinal win, with Mats Hummels's header off a set piece in the 13th minute proving the only difference.
There are also some forgotten caveats in the thumping of Brazil. The absence of captain and top defender Thiago Silva cannot be overstated, maybe more so than leading scorer Neymar's, and the Selecao weren't as dominate a team as many had pegged them to be. The German passing game was exceptional, but they thrived off a Brazilian defense which was completely unorganized and demoralized.
Brazil barely escaped Colombia and Chile in the two previous rounds, needing a penalty shootout, a wonder goal from David Luiz and rough fouls committed against Los Cafeteros midfielder James Rodriguez in order to prevail.
Enter Argentina, with a perfectly reasonable chance to deny Germany's hopes of a fourth Cup title.
Germany have won six and lost nine times to La Albiceleste, but have been responsible for their elimination in the last two Cups, including a 4-0 rout in South Africa and a 1-1 (4-2) victory in 2006. They've also met twice before in the final, with Argentina claiming its second Cup in 1986 in a narrow and classic 3-2 win, and the Germans avenging that loss 1-0 four years later in Rome. The lone goal came on a penalty in the 85th minute and with Argentina playing with 10 men.
That proved to be Germany's last Cup, and while they've set a record with four straight trips to the semifinals they've finished second, third and third in the last three tournaments. With the exception of European Championship in 1996, Germany has failed to live up to lofty expectations since 1990.
The Oranje were in the process of completing a campaign against all the teams that denied them Cup glory. They already humiliated Spain, the squad they fell to in the 2010 final, with a 5-1 route in the opening group stage match. It would've been satisfying for Louis van Gaal's men to earn their first title at the expense of Germany, their chief rival.
Now Germany and Argentina prepare to face each other in a match that is sure to be a classic with grudges settled on all sides.
© Copyright IBTimes 2023. All rights reserved.