'Glee' Season 6 Spoilers: 9 Things To Know About The March 20 Series Finale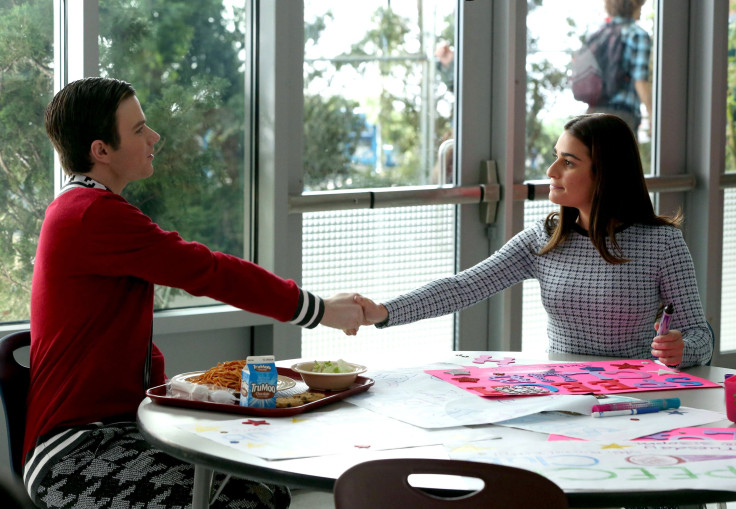 The end of "Glee" is finally here, but there are still some surprises in store. The two-hour series finale of the musical comedy will wrap up all the loose ends, but expect a few new storylines to be thrown in at the last minute. The "Glee" finale will feature famous guest stars, a glimpse into the future and even a pregnancy. Find out what to expect when the show takes its final bow:
1. Flashbacks and Flash-Forwards – The first hour of the finale, titled "2009," takes us back to see the original members of New Directions before the club was started. The second half, titled "Dreams Come True," goes five years into the future.
2. Finn – As previously reported, the flashback portion of the series finale will involve Finn. The late Cory Monteith will even appear on screen, in footage from the pilot episode.
3. Kurt's Dark Past – Kurt (Chris Colfer) allegedly picks up a pamphlet about suicide before he signs up for glee club.
4. Blaine Almost Met Kurt – In the "2009" episode, Blaine (Darren Criss) hadn't met Kurt yet, but that doesn't mean he wasn't in Ohio. It was revealed at PaleyFest that Mercedes (Amber Riley) has a brief run-in with him during the flashbacks.
5. Guest Stars – From original cast members like Dianna Agron (Quinn) to the new kids like Marley (Melissa Benoist), everyone comes back for the final farewell. Check out the full list of guest stars from the press release: "Geraldo Rivera as himself; Jonathan Groff as Jesse St. James; Andrew Rannells as himself; Mark Salling as Puck Puckerman; Kevin McHale as Artie Abrams; Amber Riley as Mercedes Jones; Jenna Ushkowitz as Tina Cohen-Chang; Jayma Mays as Emma Pillsbury; Dianna Agron as Quinn Fabray; Naya Rivera as Santana Lopez; Heather Morris as Brittany S. Pierce; Jessalyn Gilsig as Terri Schuester; Melissa Benoist as Marley Rose; Jacob Artist as Jake Puckerman; Alex Newell as Unique and Blake Jenner as Ryder."
6. Pregnancy – "The final act will allegedly find one character pregnant, but there's a twist," TV Line reports. Leaked photos hit the Internet of a pregnant Rachel (Lea Michele) with Kurt and Blaine. Could the twist be that she is carrying Klaine's baby?
7. Marriage – Rachael will be married in the flash forwards, according to TV Line, but who is her husband? Sam (Chord Overstreet) has been her love interest throughout the season, but Rachel decided to go back to New York and kissed Jesse last week.
8. Original Song – Rachel's last solo will be an original song called "This Time," written by cast member Darren Criss. "Really, it was such a favor because I got to say everything to everyone here, and everyone who will watch it, and the people who were there that day that I wanted to say but you can't think of the words and he wrote them," Michele explained at PaleyFest. "And it was so special and so perfect."
9. Happy Endings – Don't worry about cliffhangers. The actors have promised that there is a lot of closure in the final hour. "It's 'Glee,' like make no mistake, no one was going to leave without a happy ending so, they really tried to hammer home everyone's final notes, so to speak," Criss said during an interview with "On with Mario Lopez."
The two-hour "Glee" series finale will air on Friday, March 20, at 8 p.m. EDT on Fox.
© Copyright IBTimes 2023. All rights reserved.