'God of War' Release Date, Pre-Order Bonuses Announced For PS4 Exclusive
PlayStation 4 owners looking forward to the long-awaited return of gaming's angriest man can rest easy. Creative director Cory Barlog announced in a PlayStation Blog post Tuesday that "God of War" will launch exclusively on PlayStation 4 on April 20.
The announcement was accompanied by a lengthy trailer focused on the game's narrative side, as a grizzled, older Kratos from the previous "God of War" games attempts to survive in a world inspired by Norse mythology with his young son.
Barlog's post outlined the game's litany of pre-order bonuses and expensive special editions for big fans and collectors. First, players who pre-order any version of the game will get three cosmetic skins for Kratos's shield in the game. Longtime "God of War" fans may find it strange that Kratos would use a shield at all, but fatherhood must have changed him.
For $130, the Collector's Edition of "God of War" comes with a big, fancy box, a cloth map, some digital comic books and in-game gear, a couple of figurines and a big state of Kratos and his son killing some people. The Stone Mason Edition, on the other hand, is $150 and comes with all of that stuff as well as some other physical knick knacks, like a ring and a keychain.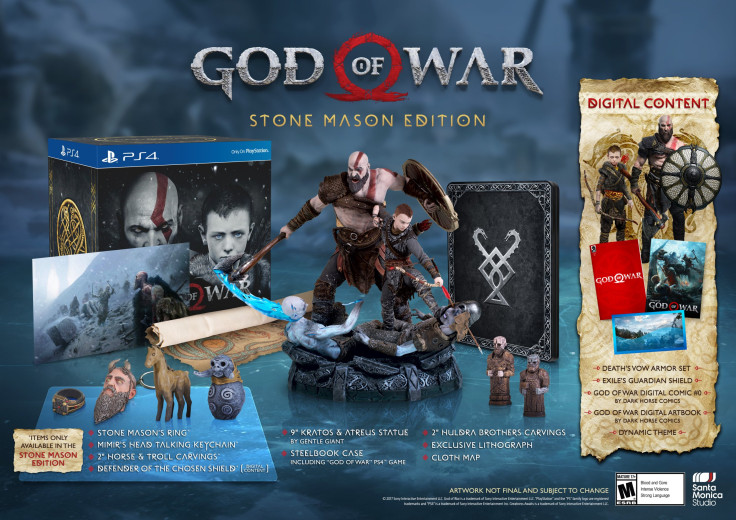 Players who do not have the shelf space for yet another video game collector's edition statue can pre-order the Digital Deluxe Edition for $70. It is essentially the Collector's Edition but without anything physical, so it just has the game, the digital comic books and the in-game goodies mentioned above. American and Canadian customers who pre-order this version can get a Kratos lapel pin, though.
Set a number of years after Kratos killed Zeus and basically destroyed Greece in the process at the end of "God of War III," this new game sees the former embodiment of rage raising a young boy in the Norse wilderness. In switching from Greek mythology to Norse mythology, "God of War" also made significant changes to the franchise's iconic combat. It now features an up-close, third-person camera angle and Kratos replaced his chain whip blades with a magical axe.
In the game's trailers and demos, it appears the now-bearded Kratos has reformed a bit and keeps his rage mostly hidden from his son. The latest trailer even suggests the boy does not know his dad used to be an actual god.
April 20 is sure to cause financial anguish for whatever small Venn diagram there is between "God of War" fans and people who want to play video games with cardboard. It is the same day Nintendo Labo comes out.
© Copyright IBTimes 2023. All rights reserved.
FOLLOW MORE IBT NEWS ON THE BELOW CHANNELS