Golden Globes: Ricky Gervais' Funniest Jokes & Quotes 2012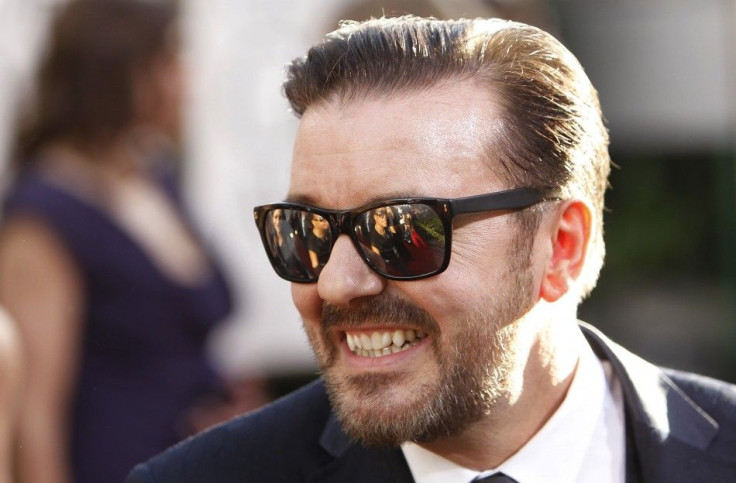 Once again, no celebrity was safe from Ricky Gervais' caustic tongue during the 69th annual Golden Globes Sunday night.
The British comedian ripped the Hollywood Foreign Press, Kim Kardashian and, once again, Johnny Depp during his third time hosting the NBC-hosted awards show -- and the first since he was banned after making too many offensive jokes last year.
Now the Hollywood Foreign Press have warned me that if I insult any of you or any of them or offend any viewers or cause any controversy whatsoever, they'll definitely invite me back next year as well, Gervais kidded in his opening monologue.
NBC execs and the HFPA were reportedly furious at Gervais for crossing the line in 2011 with his insults and put-downs. Surprisingly, the comedian was invited in November to return.
HFPA acknowledged on its Web site that not everyone is happy with the decision, but the the appointment certainly brought in ratings and buzz.
I'm tell you now if you don't like it...F--- you! Gervais tweeted in November. If you do like it.. Love you.
That was just a preview of the mocking tone Gervais was going to take during the star-studded event. But he still promised to tone it down this time around -- sort of.
I don't think I'm going to push the boundaries, he said during the red carpet pre-show. I didn't think I said anything outrageous last year. If they saw my stand up, their heads would explode. If anyone's offended, I don't care.
How did he do? Judge for yourself: below are some of the comedians funniest -- or most offensive -- jokes so far.
--The Golden Globes are to the Oscars what Kim Kardashian is to Kate Middleton. Bit louder, bit trashier, bit drunker, and more easily bought - allegedly.
--Tonight you get Britain's biggest comedian, hosting the world's second biggest awards show on America's third biggest network. Sorry, is it? Fourth. It's fourth.
--Last year, our next presenter won both the Golden Globe and the Oscar for her work in Black Swan. This year, she took some time out to have a baby. Consequently, she's been nominated for nothing. Really pathetic. But she learned that valuable lesson you all already knew: Never put family first. Please welcome the very foolish Natalie Portman.
--Bit of trivia for you. Eddie Murphy and Adam Sandler between them played all the parts in the movie The Help. Isn't that brilliant. They were brilliant. I cant believe they're not here. Or maybe they are. They're masters of disguise.
--And I'm not to libel anyone. And I must not mention Mel Gibson this year. Not his private life, his politics, his recent films, and especially not Jodie Foster's Beaver.
--Justin Bieber nearly had to take a paternity test. What a waste of a test that would have been. No, he's not the father. The only way he could have impregnated the girl was if he borrow one of Martha Stewart's old turkey basters. Open wide.
--(Gervais to Johnny Depp): Have you seen The Tourist yet? (Depp): Uh ... no.
--[Melissa McCarthy] made her mark in comedy this summer by defecating into a sink [In Bridesmaids]. Amazingly, that's still less demeaning than what most of you have done to make it in show business.
© Copyright IBTimes 2023. All rights reserved.