'Gone Girl' Movie Spoilers: 5 Things We Know About The Gillian Flynn Film Adaptation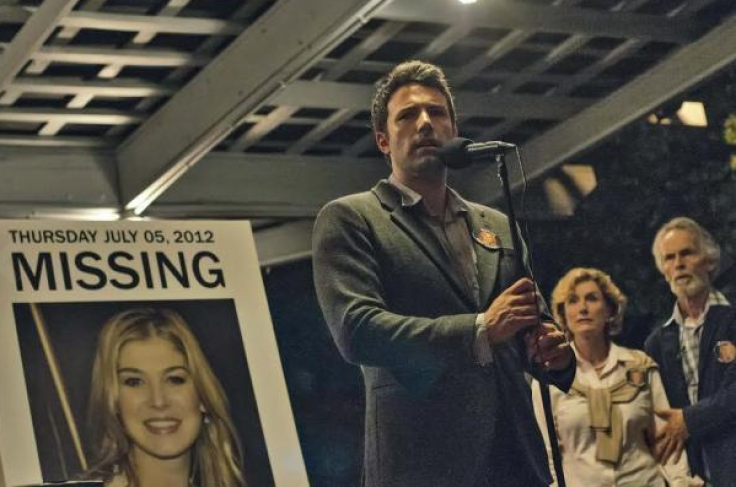 "Gone Girl," the film adaptation of the best-selling Gillian Flynn novel, has already wrapped filming, but fans of the popular crime/drama are still being kept in the dark regarding the upcoming feature. Despite being in post-production, the movie, which follows the tale of Nick Dunne (Ben Affleck), a journalist in the search of his missing wife, Amy Dunne (Rosamund Pike), only a singular image of the feature showing Affleck doing his best impression of the fictional character has since been released.
Fortunately for fans that cannot wait for the film's October 3, 2014 release, here are five other things we know about the upcoming David Fincher directed adaptation:
Already getting Oscar buzz
"Gone Girl" has yet to release a teaser, yet movie buffs are already giving the David Fincher film Oscar buzz. Could this Gillian Flynn adaptation earn itself an Academy Award statuette for best picture? The future remains to be seen for this crime/drama, but according to multiple film critics, the feature does have a shot for a nomination following Fincher's "The Social Network" and "The Curious Case of Benjamin Button" recognitions for directing.
A new third act
Despite Flynn already completing fictional characters Nick and Amy Dunne's story following the completion of the 2012 novel, the movie will reportedly use a different ending than the best-selling book. In an interview with Entertainment Weekly (her former employer) in January, Flynn revealed that as the film's screenwriter she had been hired to write a new third act for the story's silver screen debut, a proposition she appeared to be more than happy to fulfill. "There was something thrilling about taking this piece of work that I'd spent about two years painstakingly putting together with all its eight million LEGO pieces and take a hammer to it and bash it apart and reassemble it into a movie," Flynn told the magazine.
Rosamund Pike beat out big names
Rosamund Pike, a native British actress, best known for her role in the 2012 Tom Cruise thriller "Jack Reacher," has fame incomparable to the likes of Charlize Theron, Natalie Portman and Emily Blunt, but the 35-year-old film star reportedly beat out all the big name A-listers scoring the film's leading role of Amy Dunne. According to the Hollywood Reporter, Pike also trumped actors Abbie Cornish and Olivia Wilde to play the "Gone Girl" leading lady.
Tyler Perry casting backlash
While a majority of Flynn's readers have already shared their approval over news of Affleck's casting, some have not been shy in sharing their concerns over Affleck's co-star's starring role in the feature. According to reports, Tyler Perry of "House of Payne" fame, is not a favorable choice to play the character of Tanner Bolt, a lawyer infamous for representing high-profile murder cases, also described as being a "sleazebag." "There's a lot of doubt here, as there is anytime Perry steps out of Madea's costume," reads one report from The Wrap. "I haven't read Gillian Flynn's bestselling book so I don't know much about what the role actually requires, but I'm fairly certain that while Perry may be a draw for black audiences, he'll be a major distraction on screen.
Possible trailer coming soon
While there has yet to be any word from 20th Century Fox regarding a possible theatrical trailer release date for "Gone Girl," ComingSoon.net has listed the film's trailer as "coming soon!" With its fall release date quickly approaching, let's hope for Flynn's fan's sake that the world will get to see Affleck and Pike in their respective roles sometimes in the near future.
© Copyright IBTimes 2023. All rights reserved.