'The Good Place' Spoilers: Michael Schur Teases Season 2 Finale Cliffhanger
Like its freshman run, Season 2 of NBC's "The Good Place" will also end with a cliffhanger. But series creator Michael Schur said that the ending to tonight's season finale is going to be different.
"If you just keep yanking the rug out from everybody, and going, 'Everything you thought is now this totally different thing!,' then I, as a viewer, would start to go, 'Well, why should I believe anything you say?'" Schur told Entertainment Weekly. "All you're doing is watching the show and trying to guess the actual reality of what's going on. So, we don't do that [in Season 2]. The end of this season is not 'Guess what? We were right the first time — it really is the Good Place!' You could just keep doing that forever, but it's utterly diminishing returns. We tried to remain true to the DNA of the show in that we tried to do things that are interesting and surprising and maybe you didn't see coming, but everything that you have learned about them to this point remains similar. Or actually, really true."
While Schur, as expected, was cagey about how Season 2 will wrap, he told the news outlet that "the very, very last thing that happens in this season is a pretty perfect bookend, as it relates to the first thing that happens in the season." "It feels like a completed journey in some way," Schur continued. "Not completed like the show's over, mind you, it's not a series finale. It makes a lot of sense given what happened at the beginning of the year."
According to the synopsis for the finale, Michael (Ted Danson) makes a plea to Judge Jen (Maya Rudolph) not to send Eleanor (Kristen Bell), Chidi (William Jackson Harper), Tahani (Jameela Jamil) and Jason (Manny Jacinto) to the Bad Place.
In a sneak peek from the episode, Michael tells Judge Jen that the quartet don't deserve to be in the Bad Place because they're just one of the many victims of the unfair system they use on judging humans. While Judge Jen is blown away by how passionate Michael is on trying to save his human friends, it remains to be seen whether that passion is enough to change her verdict of sending the humans to the actual Bad Place. But if the episode title, "Somewhere Else," is any indication, it looks like Eleanor, Chidi, Tahani and Jason will neither end up in the Bad Place nor in the Good Place.
"The Good Place" Season 2 finale airs tonight at Feb. 1 at 8:30 p.m. EST on NBC.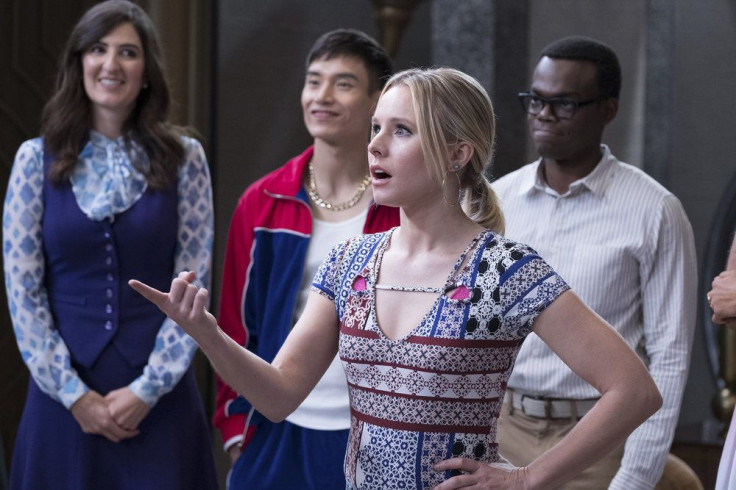 © Copyright IBTimes 2023. All rights reserved.
FOLLOW MORE IBT NEWS ON THE BELOW CHANNELS