Google Malaysia Website Apparently Hacked, Company Says DNS Attack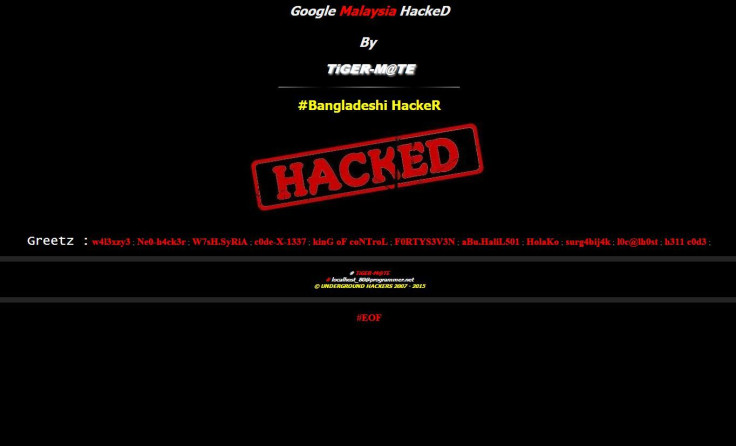 Users of Google's Malaysia website were denied access to the website on Tuesday, and were redirected to a webpage that said "Google Malaysia Hacked by Tiger-Mate #Bangladeshi Hacker."
Google has contacted MYNIC, the organization that manages the domain name, to solve the issue, the Wall Street Journal reported, citing a company spokesman in Malaysia.
"We're aware that some users are having trouble connecting to google.com.my, or are being directed to a different website," the Journal quoted the spokesman as saying. "We've reached out to the organization responsible for managing this domain name and hope to have the issue resolved shortly."
MYNIC is operated by Malaysia's ministry of communications and multimedia, and is the administrator for all websites ending with ".my," Reuters reported.
At the time of reporting, google.com.my was still getting redirected to a website that showed the message "Google Malaysia Hacked" in white, red and yellow colored text over a black background.
Zeffri Yusof, the head of Google Malaysia's corporate and communications, denied the incident to be hack, and said it was likely a repeat of the domain name system (DNS) attack, which had occurred at least twice before, the Malay Mail Online reported.
Meanwhile, Google Malaysia has directed users to use an alternate address to access the service until the issue is resolved.
© Copyright IBTimes 2023. All rights reserved.
FOLLOW MORE IBT NEWS ON THE BELOW CHANNELS