Google Prepares To Test New Technology For Super Fast Wireless Internet Service: Report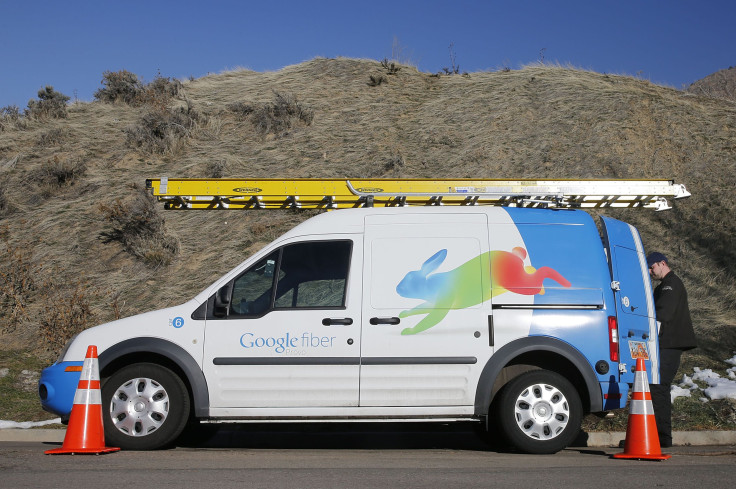 Google is working on a new technology that could help the company develop a wireless version of its high-speed Internet service called "Fiber," a report said Wednesday, based on an official regulatory filing with U.S. Federal Communications Commission, or FCC, on Monday.
In an application, the Mountain View, California-based search engine giant asked the FCC for permission to conduct tests in California across various wireless spectrums, including the millimeter-wave frequency capable that is used to transmit large amounts of data, Reuters reported. The new technology is expected to form the basis of a wireless connection that can reach homes without any ground cable or fiber connection.
"You could look at it as a possible wireless extension of their Google Fiber wireless network, as a way to more economically serve homes. Put up a pole in a neighborhood, instead of having to run fiber to each home," Stephen Crowley, a wireless engineer and consultant, told Reuters.
Google's new wireless service, which could beam Internet directly into homes, is expected to compete with industry leaders such as Verizon, AT&T and Comcast by offering a quicker and cheaper way to deliver high-speed Internet connectivity, Reuters reported, citing experts.
Google seeks to begin the latest testing on Nov. 13 in three locations in the San Francisco Bay Area, including one in San Mateo County and two on the company's Mountain View campus. Google said in the regulatory filing that the test will use radio transmitters operating in the 5.8 GHz frequency, the 24.2 GHz frequency and in the millimeter-wave bands of 71-76 GHz and 81-86 GHz.
The purpose of the test is to "expeditiously test radios in a way that is likely to contribute to the development, extension, expansion or utilization of the radio art," Google reportedly said, in the filing.
Meanwhile, the FCC is set to hold a meeting Friday about the use of wireless spectrum exceeding 24 GHz for mobile services. The agency is also likely to discuss ways to assist the development and deployment of technology using such frequencies, Reuters reported.
© Copyright IBTimes 2023. All rights reserved.
FOLLOW MORE IBT NEWS ON THE BELOW CHANNELS