GOP Congresswoman-elect Nicole Malliotakis Has An Answer To AOC's 'Squad'
KEY POINTS
Malliotakis is among the handful of Republicans joining the new Congress
We have an answer to "the socialist squad," she said
Malliotakis will join Ocasio-Cortez in representing New York state
Congresswoman-elect Nicole Malliotakis of New York says she has a conservative answer to the group of female Democrats known as "the squad."
Malliotakis joined incoming Rep. Nancy Mace of South Carolina on CNN's "State of the Union" on Sunday, saying women were taking their rightful seats on Capitol Hill. Taking aim at her future colleague in New York, Rep. Alexandria Ocasio-Cortez, Malliotakis said she has an answer to what she sees as a socialist agenda.
"I think there's just a stark contrast between what we're offering and what people like Alexandria Ocasio-Cortez are offering," she said, as reported by Politico. "And that's something that needs to be debated in Washington."
Ocasio-Cortez, known also as AOC, has worked to defend her platform against a portrayal as a far-left politician, along with fellow "squad" members Reps. Ilhan Omar of Minnesota, Ayanna Pressley of Massachusetts, and Rashida Tlaib of Michigan.
"I think a lot of people, including my Democratic colleagues, believe the Fox News version of me," she said in a recent interview with Vanity Fair.
Malliotakis kept with the theme, however, that the "squad," all of which are under the age of 50 and are from members of the minority community, are socialists.
"I think what you're going to see is a group of individuals who are going to serve as a counterbalance to the values of the socialist squad," she said. "We don't believe we should be dismantling the economy. We don't believe we should be destroying free market principles. We don't believe in 'Green New Deal.' We don't believe in packing the courts."
Ocasio-Cortez earlier hit back to say that her political ideology was indeed winning in the court of public opinion despite criticism that it was that stance that was responsible for Democrats losing seats in the House of Representatives. She beat well-funded Republicans to secure a second term in office in the Nov. 3 election.
Mostly female Republicans helped eat into the Democrat majority in the House. Explaining the wins, South Carolina's Mace said it was because women were making their voices heard.
"It's not just Democratic women who hold a monopoly on breaking glass ceilings," she said.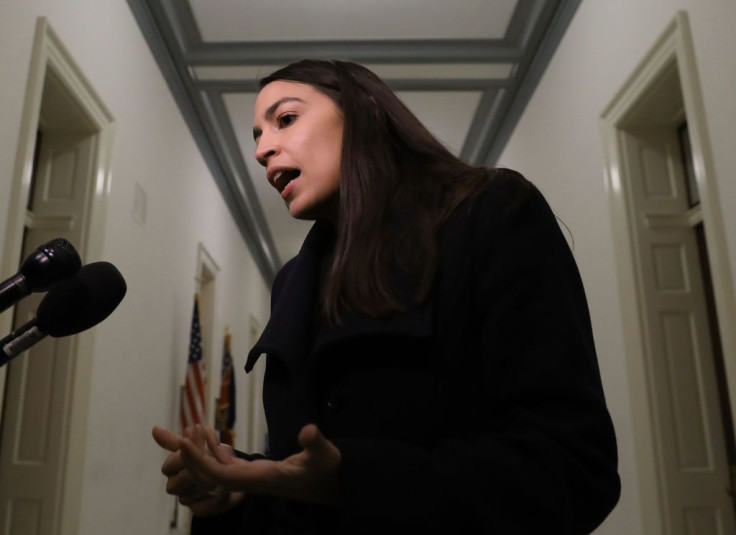 © Copyright IBTimes 2022. All rights reserved.
FOLLOW MORE IBT NEWS ON THE BELOW CHANNELS