Mike Huckabee Hearts Donald Trump? He Would Be A Better President Than Hillary 'Every Day Of The Week And Twice On Sunday'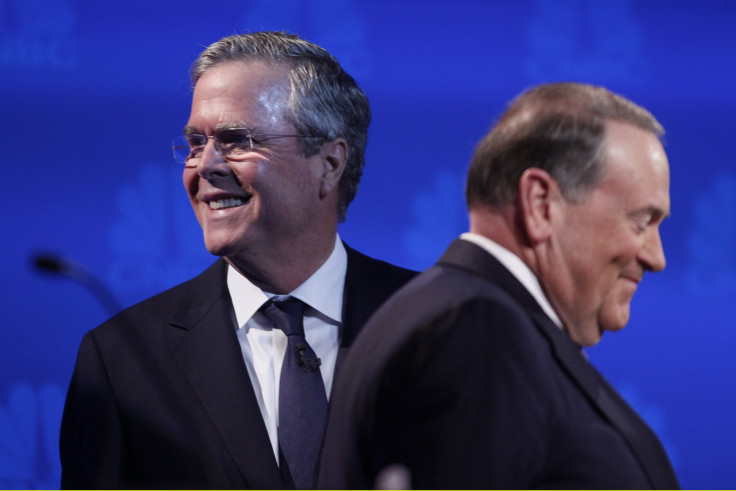 Mike Huckabee wants Donald Trump to make America great again -- whatever it takes to keep Hillary Clinton out of office. Huckabee, who said he was wearing a Trump brand tie, praised the business mogul Wednesday night during the third Republican debate.
"Donald Trump would be a better president every day of the week and twice on Sunday than Hillary," the former Arkansas governor said of Clinton, the former first lady of Arkansas and the former U.S. secretary of state.
The remarks came during a debate that was supposed to address job growth, but largely unfolded as a fight between Republican candidates and the Democratic Party. Huckabee had previously positioned himself as the best candidate to grow the U.S. economy. At one point, he compared the government to a military blimp that escaped over Pennsylvania for hours early Wednesday.
Huckabee wants to overhaul federal tax policy by embracing the FairTax, a measure put forth by the Americans for Fair Taxation, a nonpartisan organization based in Houston. It would replace most taxes with a national sales tax of 23 percent in the first year. The tax rate would adjust every year based on revenues collected by the government. "I guarantee you we will goose the economy if we bring $11 trillion of working capital back to this country," he has said.
Huckabee is trailing in the polls but he has said he can still recover. "I don't care what the polls are right now," he said last week at an event in Gaffney, South Carolina. "Winning early states is all about getting organized, getting people to those caucuses and primaries."
For the main debate, host network CNBC required that candidates average at least 3 percent in national polls. Huckabee barely qualified. Other candidates who didn't qualify were featured in an "undercard" debate earlier in the night. They included former Sen. Rick Santorum, South Carolina Sen. Lindsey Graham and Louisiana Gov. Bobby Jindal.
The CNBC debate was called "Your Money, Your Vote." It was broadcast from the Coors Evens Center at the University of Colorado in Boulder. It was moderated by Carl Quintanilla, host of "Squawk on the Street" and "Squawk Alley;" Becky Quick, co-anchor of "Squawk Box;" and Chief Washington Correspondent John Harwood.
Trump is the GOP front-runner. Clinton tops the Democratic primary race.
© Copyright IBTimes 2023. All rights reserved.