GOP Debate 2015: Trump, Kasich Spar Over Lehman Connections, Tax Plan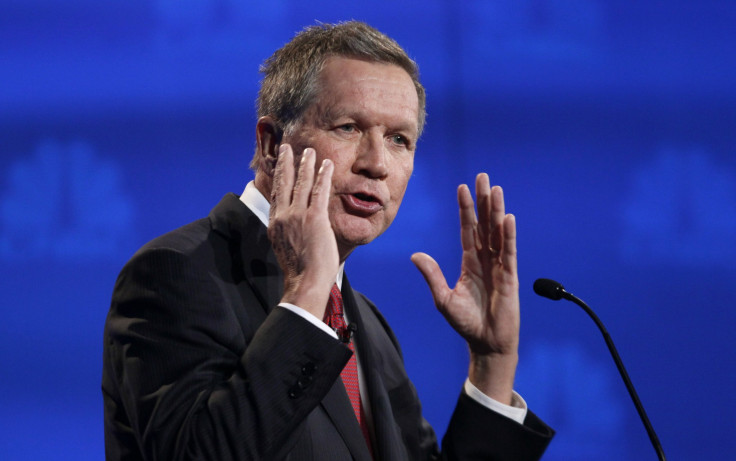 Touting his success creating jobs in his home state, Ohio Gov. John Kasich tried to push his tax plan at the third Republican primary debate Wednesday, but businessman Donald Trump would not stand by and listen. Sparring with Kasich, Trump wrote off Ohio's economic growth as a lucky break.
Ohio's unemployment rate last month was 4.5 percent, down from the 9.2 percent when Kasich took office in 2011, The Street reported. While in office, Kasich has cut employment taxes and limited corporate regulations, which he says he plans to do if he wins the presidential election.
"John got lucky with fracking," Trump said. "That's why Ohio is doing well."
Trump also attacked Kasich's tenure with Lehman Brothers, telling the audience that Ohio governor was a managing general partner at the financial services firm -- a claim Kasich refuted. "I was a banker, and I was proud of it, and I traveled the country and learned how people make jobs," Kasich said.
Kasich did have a relationship with Lehman Brothers. An International Business Times report found that Kasich received considerable paychecks from the firm, even though he was not registered as a lobbyist for Lehman Brothers.
A campaign spokesman said Kasich "was in the investment banking division" and "worked as part of coverage teams across a variety of sectors" on mergers and acquisitions, initial public offerings and other financial deals.
Kasich was placed at the further end of the stage since he has less support in the national polls, while Trump was front-and-center as the front-runner of the Republican primary race. The other candidates that appeared in the primetime debate were former Hewlett-Packard CEO Carly Fiorina, retired neurosurgeon Ben Carson, former Florida Gov. Jeb Bush, U.S. Sen. Ted Cruz of Texas, U.S. Sen. Marco Rubio of Florida, former Arkansas Gov. Mike Huckabee, U.S. Sen. Rand Paul of Kentucky and New Jersey Gov. Chris Christie.
Candidates were invited based on an average of respected polls from Sept. 17 to Oct. 21. The top-tier GOP debate aired on CNBC at 8 p.m. EDT.
Donald Trump Presidential Candidate Profile | InsideGov
Four other candidates were relegated to the "happy hour" debate, which aired prior to the prime-time debate, because of their stance in the polls. The candidates selected for the earlier forum were former Pennsylvania Sen. Rick Santorum, Louisiana Gov. Bobby Jindal, former New York Gov. George Pataki and U.S. Sen. Lindsey Graham of South Carolina.
CNBC hosted the debate at the University of Colorado-Boulder.
© Copyright IBTimes 2022. All rights reserved.
FOLLOW MORE IBT NEWS ON THE BELOW CHANNELS