GOP War On Drugs Waning? Republicans Debate Marijuana Legalization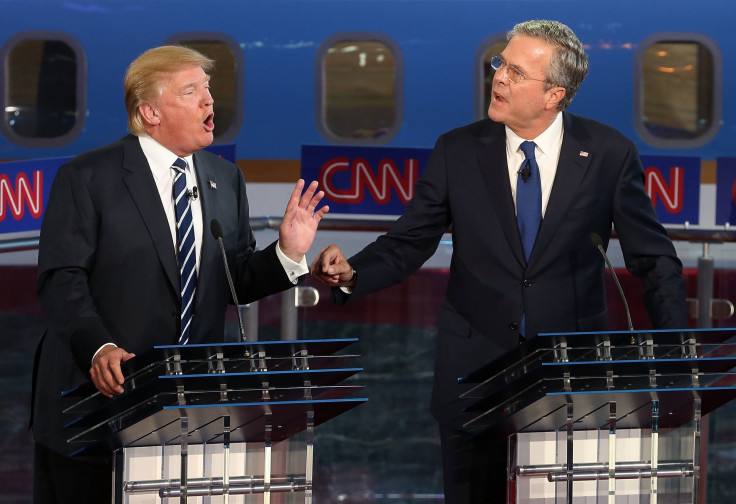 The GOP was once known for its unforgiving approach to locking people up for drug offenses, but Wednesday's debate suggests this may no longer be the case. Several of the 11 top presidential candidates indicated they would rather reform the criminal justice system than see it continue on the path that has led to more than 1.5 million Americans in jail. The shift signals that Republican candidates might be overhauling their stances on mass incarceration to reflect the views of Americans, who increasingly support the legalization of drugs such as marijuana.
"There is at least one prominent example on the stage of someone who says they smoked pot in high school," U.S. Sen. Rand Paul, R-Ky., said Wednesday during the CNN-hosted debate, referencing former Florida Gov. Jeb Bush, who openly admitted to smoking marijuana in his youth. "And yet the people going to jail for this are poor people — often African-Americans and often Hispanics — and yet the rich kids who use drugs aren't."
The Cost Of Incarceration
Roughly 300,000 of the 1.5 million people in federal prisons are serving time primarily for drug-based offenses, the highest number of any country. In 2007, spending on corrections had reached a $74 billion high.
As more Americans conclude that both the War on Drugs and the nation's prison system cost too much money, politicians have no choice but to adjust, said Ryan King, a senior fellow who analyzes mass incarceration for the Urban Institute, an economic and social policy think tank in Washington.
"Public opinion has shifted from where it was 20 years ago," King said. "People have realized that just locking people up is not what we need to do to improve public safety."
The War on Drugs, started by former President Richard Nixon in 1971, costs the U.S. about $51 billion a year, according to the Drug Policy Alliance, a New York City-based group that advocates for an end to the War on Drugs. A report by the Brookings Institution think tank based in Washington found that about 72 percent of Americans said that government efforts to enforce marijuana laws cost more than they are worth. By 2013, 52 percent of Americans were in favor of legalization, according to the Brookings report, up from only 35 percent who backed legal weed by the end of Republican George W. Bush's second term as president, in 2009.
Allen St. Pierre, executive director of the National Organization for the Reform of Marijuana Laws, a group based in Washington, D.C., that advocates for the legalization of marijuana, said the increase in the number of Americans who support marijuana legalization has forced the minds of GOP leaders who want the White House.
"Even if they themselves don't want to see these reforms, if they are pragmatic politicians, they will most likely have to find ways to be neutral or supportive," St. Pierre said.
GOP Softens Its Stance
During the debate, former Hewlett-Packard CEO Carly Fiorina called for criminal justice reform, highlighting high incarceration rates in the U.S. While she overshot the number of people incarcerated for drug-related offenses, she did express a need to reform a system she said did not work.
Paul told the crowd he wanted to see a criminal justice system that allows for more rehabilitation and less incarceration, and that he wants to see drug courts send fewer people to jail. Bush said the government should give people charged with drug offenses a second chance.
"It is appropriate for the government to play a consistent role to be able to provide more treatment, more prevention — we're the state that has the most drug courts across every circuit in — in — in Florida, there are drug courts to give people a second chance," Bush said. "That's the best way to do this."
The debate apparently didn't impact the stocks of for-profit prisons, which are worth $3 billion and are slowly becoming some of America's biggest industries. GEO Group's (NYSE:GEO) stock fell .3 cents, or .97 percent, to $30.72 in Thursday's afternoon trading. The company runs roughly 106 corrections facilities, many of which have seen riots and death in the past few years. Meanwhile, Corrections Corp Of America's (NYSE:CXW) stock rose .06 cents, or .19 percent to 30.91 in Thursday-afternoon trading. It has prisons, jails, detention centers and residential reentry centers in 20 states.
The GOP's War On Crime
Republicans once used a hardline justice approach to win elections. In the 1988 presidential election, Republican George Bush beat Democrat Michael Dukakis after an infamous ad featuring the story of convict Willie Horton, who while on furlough from his life sentence killed a man and raped and beat the man's wife. Dukakis supported the furlough program, and while the ad never mentioned Dukakis by name, the ad implied he wasn't as tough on crime as Bush. Bush won the election.
The tough talk on justice changed in the mid-2000's. State Republican leaders were the first in the party to embrace mass incarceration reform, said Inimai Chettiar, director of the Justice Program at New York University's Brennan Center For Justice, a think tank based in New York City.
When former Texas Gov. Rick Perry in 2007 instituted policies to improve efficiency in the criminal justice system and stop the steady increase in inmate numbers, it sent a message to other Republican state leaders that if Texas, a state known to have one of the harshest prison systems in the U.S., could reform its system, they could too, Chettiar said.
As more Americans favored treatment for those charged with drug offenses over jail or prison, more Republicans saw a need to come to a new consensus on the issue of criminal justice, Chettiar said.
"We're seeing that momentum in the state has come up to the national level," Chettiar said. "Support for the legalization of drugs has changed; many more people prefer treatment."
FOR FREE to continue reading
✔️ Unlock the full content of International Business Times UK for free
offer available for a limited time only
✔️ Easily manage your Newsletters subscriptions and save your favourite articles
✔️ No payment method required
Already have an account?
Log in
© Copyright IBTimes 2023. All rights reserved.