'Gotham' Season 1 Spoilers: Is Catwoman Afraid Of Poison Ivy? Watch 4 Sneak Peek Videos For The Fall Finale, 'Lovecraft'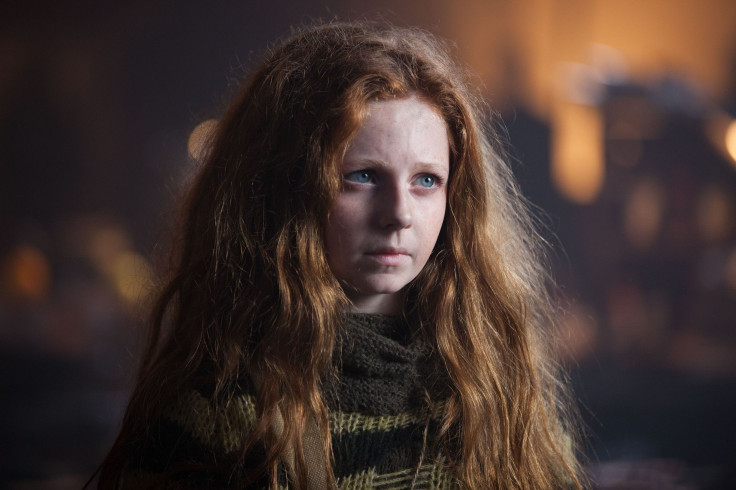 "Gotham" Season 1, episode 10 will serve as the fall finale for the Batman origins drama, and it seems there will be plenty of action in the episode, titled "Lovecraft." Bruce Wayne (David Mazouz) and Selina Kyle (Camren Bicondova) will find themselves without any adult supervision while running from killers. Meanwhile, Jim Gordon (Ben McKenzie) and Don Falcone (John Doman) are trying to track down different criminals in sneak peek videos for episode 10.
Sneak Peek No. 1
Selina Kyle/Cat is taking Bruce out on the streets, and that means making him look the part. She takes him to her friends and gets him street clothes, and that's when they run into Ivy Pepper (Clare Foley). It seems that the future Poison Ivy and Catwoman have already gotten to know each other. Ivy has apparently been in juvenile detention centers and different homes since her father was killed by Harvey Bullock (Donal Logue). Bruce immediately recognizes her and introduces himself.
"Stay cool now, Ivy," Cat reminds her.
"I am cool. Why are you telling me that? Why are you telling me what to do?" Ivy asks.
When Cat explains that she just doesn't want her to get mad, Ivy explains that she isn't mad at Bruce. "Why would I get mad at him?" she asks. "It's not his fault, is it? Did you kill my father? Did you make my mother cut her wrists?"
Ivy knows not to blame him, but Cat still gets Bruce out of there fast. "She's just a little girl. Why are you so scared of her?" Bruce asks.
"Because she's scary," Cat explains.
Watch the sneak peek video from "Gotham" Season 1, episode 10 below:
Sneak Peek No. 2
A woman comes to Wayne Manor with blood on her face and tells Alfred (Sean Pertwee) that she has been hurt. Alfred immediately invites her in and asks about her injuries. Bruce and Cat come down the stairs to see what is happening.
"Alfred, is everything all right?" Bruce asks.
Immediately, the woman drops the victim act as soon as she sees Cat and Alfred tells them to run. He starts to fight the woman and other assassins as they come in. Bruce and Cat escape, but Bruce doesn't want to leave Alfred behind.
"Alfred might be hurt," Bruce says. "I can't leave him."
"He told you to run," Cat says.
Watch the sneak peek video from "Gotham" Season 1, episode 10 below:
Sneak Peek No. 3
Alfred is angry about the attack, and he isn't afraid to let Jim Gordon know that.
"They were trained killers and your bloody little girl put them here," Alfred says.
Jim has a lot of explaining to do. Bullock finds a picture of Cat on an assassin's body. He didn't have any identification or personal items, so it's clear that he was targeting her. Bullock finds it too coincidental that Selina Kyle has shown up again after her kidnapping. He wants an explanation.
"Selina Kyle was in the alley the night the Waynes were murdered," Jim says. "She saw the killer's face. ... Harvey Dent in the D.A.'s office is investigating Dick Lovecraft. He thinks that Lovecraft is linked to the Wayne killings. So he leaked that we had a witness. He thought he could spook Lovecraft, get him to reveal himself."
Bullock argues that he should have known about this, and Jim should be leaving the case alone. They immediately get into a screaming match, but Alfred isn't having it.
"Will you shut up? The pair of you!" Alfred shouts. "You can argue later. Right now, we need to find Master Bruce."
Watch the sneak peek video from "Gotham" Season 1, episode 10 below:
Sneak Peek No. 4
Penguin (Robin Lord Taylor) is finding life as a double agent to be tough. It seems that Falcone thinks Maroni (David Zayas) is responsible for stealing money. Only someone on his team would know that. "How did Maroni know where I kept my money?" Falcone demands. "No one knew."
"The robbery at the armory, that wasn't Maroni," Penguin says.
Penguin swears that it couldn't have been Maroni because he never revealed that information. Liza (Makenzie Leigh) interrupts them with tea and is shocked to see Penguin. She immediately excuses herself, and Penguin suddenly knows exactly how someone could have gotten the information about Falcone's money.
"You have a mole obviously, which is not Maroni's forte, is it?" Penguin says. "No, this is someone else. Someone artful, someone close to you."
Falcone refuses to believe that it is Fish Mooney (Jada Pinkett Smith). Penguin hates her, so Falcone doesn't feel he can trust any of Penguin's accusations.
Watch the sneak peek video from "Gotham" Season 1, episode 10 below:
"Gotham" Season 1, episode 10, titled, "Lovecraft," airs Monday, Nov. 24 at 8 p.m. EST on Fox. Will Falcone finally figure out Liza's loyalties? Share your thoughts in the comments section below!
© Copyright IBTimes 2023. All rights reserved.