'Gotham' Season 2 Spoilers: First Photos Of Paul Reubens Released; 3 Things To Know About Penguin's Father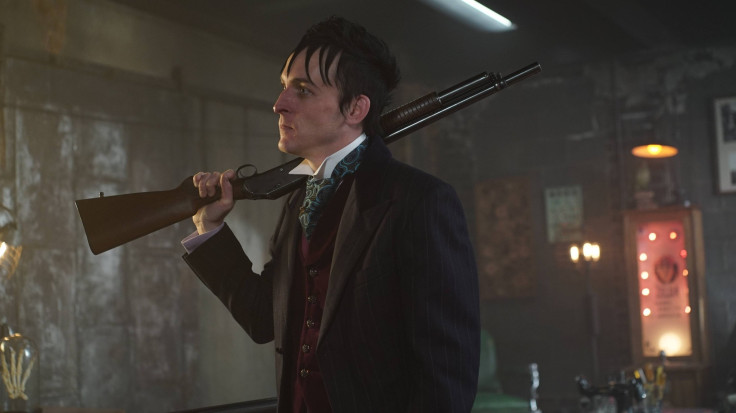 Penguin (Robin Lord Taylor), the self-proclaimed "King of Gotham" will meet his father when "Gotham" Season 2 returns to Fox in February. It was revealed that "Pee-wee Herman" star Paul Reubens will play Penguin's father, just as he did in the 1992 movie "Batman Returns." And fans just got their first look at the new arrival.
"Gotham" executive producer Danny Cannon shared two photos on Twitter of Reubens as Penguin's father. The first photo shows Reubens alongside Taylor, while the second features Reubens looking a lot like Ebenezer Scrooge holding a candle. Both photos can be seen below:
At New York Comic Con in October 2015, Taylor revealed Reubens would be joining the show as his father. Not much has been revealed about what the relationship between Penguin and his father will be like. We do know that Penguin was very close to his mother, Gertrude, played by Carol Kane, but she was killed earlier in Season 2.
Here's what we know so far about Reubens, based on how he played the role in "Batman Returns" and what's to come of Penguin when the show returns in February.
1. Penguin's Father Will Likely Be A Villain
As if the dark theme of the photos weren't enough of a hint, Reubens was far from a good parent when he played the part in "Batman Returns." In the film, Penguin's father and mother threw an infant Penguin into a river leaving him to die because they believed their child wouldn't fit into society. On the show, Penguin had a very loving relationship with his mother, but his father has been absent.
2. Penguin Will Get Darker
Penguin's father will be entering the character's life at a time where he no longer has someone he loves in his life. In an interview with The Hollywood Reporter in November, Taylor said Penguin losing his mother has led to his "shred of humanity being ripped away from him."
3. Penguin's Father Could Be The Reason For His Dark Side
When the Cobblepot's sent their son down the river in "Batman Returns," Penguin was discovered by Penguins. The rejection of his parents ultimately led to him becoming a villain. Gertrude was nothing but kind to her son on "Gotham", so it's very likely the origins of the evil inside of Penguin came from his father's side.
"Gotham" Season 2 returns on Feb. 29 on Fox at 8 p.m. EST.
© Copyright IBTimes 2023. All rights reserved.