'Gotham' Season 2 Spoilers: Will Hugo Strange Create The Joker? Episode 13 Teases Possible Return Of Jerome Valeska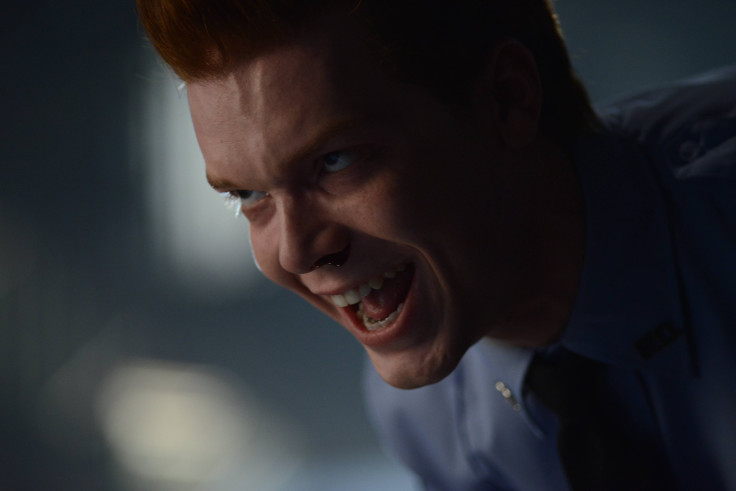 When Theo Galavan (James Frain) went down in the fall finale of Fox's "Gotham," it looked things might be better for Gotham City. But Hugo Strange (BD Wong) is quickly becoming a major menace and could bring even worse horrors to Season 2. Strange not only brings new chaos to the city, but it looks like he could be bringing back some villains from the dead — including the potential Joker, Jerome Valeska (Cameron Monaghan).
At the end of episode 13, Theo's body was shown in a container filled with Mr. Freeze's (Nathan Darrow) solution to bring people back to life, meaning Strange has plans to revive fallen villains. Right behind Theo were more containers, one holding what appeared to be the body of Jerome. It's already been reported that both Theo and Fish Mooney (Jada Pinkett Smith) would be back this season, but is it possible that the man responsible for the Joker could also be back?
Jerome has arguably been the most popular villain on the Fox series so far. His laugh was haunting and there was nothing he enjoyed more than shaking up Gotham City through death and destruction. In a power move by Theo, he betrayed Jerome in episode 3 when he stabbed and killed him. However, it might not have been Jerome's last laugh after all.
In the comics, Strange basically created monsters similar to Frankenstein to do his dirty work for him. It's possible "Gotham's" Strange is planning to do the same thing, only his army of monsters will contain some of the biggest bad guys the city has ever seen.
In an interview with TV Guide, Wong said fans will have to wait a bit to see what exactly Strange is doing with the bodies at Indian Hill. Strange told Freeze at the end of the episode that death is only the beginning, which could mean that more villains that appeared to be dead on the show can make a return.
"We know that he's interested in reanimation. Why he's interested in that or what he's going to do with that ability isn't really clear, even to me," Wong dished. "It does mean, if he's ever successful in reanimating someone, that all bets are off for anyone that's ever died."
"Gotham" Season 2 airs Mondays on Fox at 8 p.m. EST. Would you like to see Jerome return as the Joker on "Gotham"? Sound off in the comments section below!
© Copyright IBTimes 2023. All rights reserved.