'Gran Turismo 6' Allegedly Announced
"Gran Turismo 6" has allegedly been announced, according to iafrica.com, which reports that the next entry in the popular racing simulation series will be available for PS3.
Complicating the story is the fact that iafrica's article regarding the announcement currently contains two editors' notes. One note makes a reference to an embargo that iafrica.com wasn't informed of until after their story regarding the announcement was published.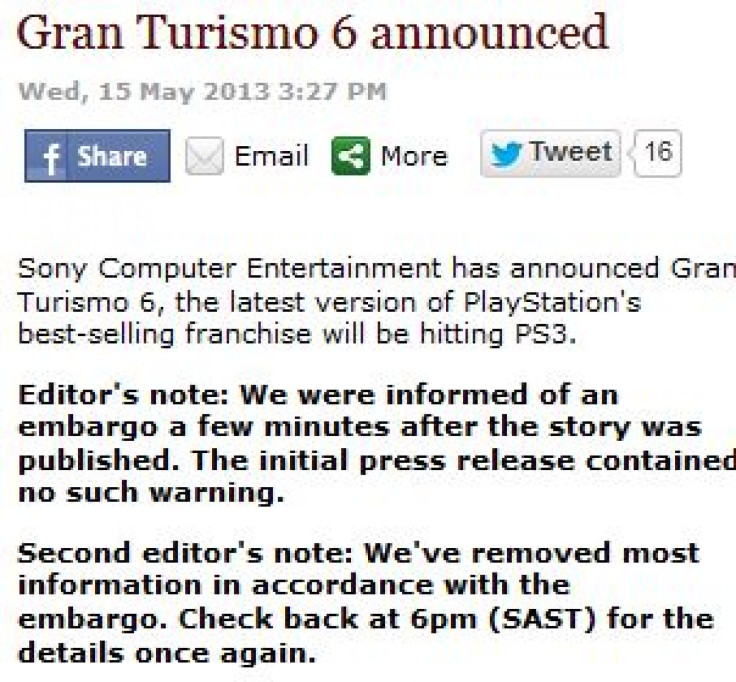 Allegedly, a leaked press release of the game's announcement reveals that "Gran Turismo 6" contains seven new tracks, 1,200 cars and more.
It's almost 4:30 in South Africa, so it's safe to assume there's a little more than an hour and a half to go until further details regarding this developing story are revealed, unless something breaks before that. Stay tuned.
In the interim, are you excited for "Gran Turismo 6"? What features do you want to see? Are seven new tracks enough? Sound off in the comments below.
© Copyright IBTimes 2023. All rights reserved.