'Gran Turismo Sport' March Update Adds New VR Time Trial Mode, Cars
Developer Polyphony Digital and publisher Sony Interactive Entertainment are rolling out a new update for "Gran Turismo Sport." Patch 1.15, also called the March Update, adds new vehicles, tracks and GT League events to the racing video game.
On Thursday, Polyphony President Kazunori Yamauchi announced via the PlayStation Blog the latest patch for "Gran Turismo Sport." According to him, they made the new update with fans' feedback in mind. "We've been paying close attention to your feedback, and have added an unmissable collection of new cars, events and a brand new VR Time Trial mode we hope you'll love," Yamauchi stated.
The creator of "Gran Turismo" emphasized in his post the new VR Time Trials. Yamauchi said that they are well aware that many fans want "GT Sport's" VR mode to have an expansion, so they are addressing this with the latest patch. Players are now given the opportunity to hit the track in a series of challenging time trials using their PS VR headsets.
The update also adds official support for the Fanatec wheel. Users who are fond of the Fanatec wheel can also rejoice because Polyphony is committed to further improving its functionality in succeeding updates.
As expected, the Patch 1.15 introduces a collection of new vehicles to the game. The collection is composed of classic roadsters and modern supercar concepts. They are all listed below and can be seen in action in the teaser trailer PlayStation released on YouTube.
Honda Raybrig Concept-GT
Lexus Au Tom's RC F
Nissan Motul Autech GT-R
Aston Martin DB11
BMW M3 Sport Evolution
Eckerts Rod & Custom Mach Forty
Ford GT40 Mark I
Gran Turismo Red Bull X2014 Standard
Gran Turismo Red Bull X2014 Junior
Lexus RC F GT3
Mazda RX-7 GT-X (FC)
Nissan Skyline GT-R V-Spec (R33)
Nissan GT-R Nismo
The March Update also comes with three new events for the GT League. Each event is designed to test a specific skill level of drivers. For the Beginner League, there's the Nissan GT-R Cup. For the Amateur League, there's the Redbull X-Junior Series. As for the Professional League, there's the All Japan GT Car Championships.
Fans will be delighted to know that "GT Sport's" Patch 1.15 introduces a new track to the game, the world famous Tsukuba Circuit. The description for the track reads: "The track is fairly compact, stretching a mere 2,045m, but the layout is exceptionally challenging, mixing a variety of long sweepers with tight corners."
A stunning Cherry Blossom theme has also been added to Scapes Mode. Yamauchi said this will help players get into the spring spirit. Finally, the update adds a new MINI Museum that players can explore if they want to learn about the complete history of the British automotive giant.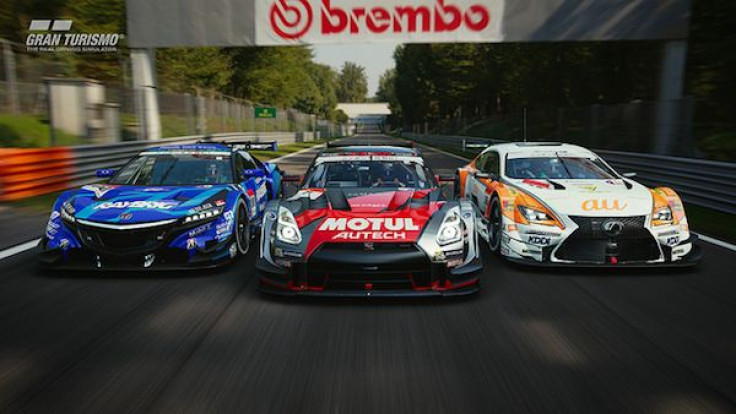 © Copyright IBTimes 2023. All rights reserved.