The Great Mitten State Debate: Wisconsin vs. Michigan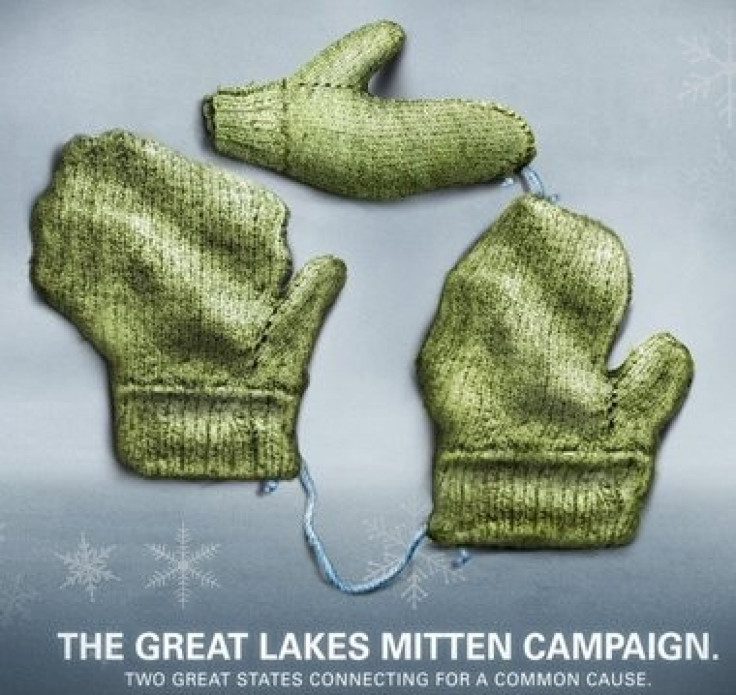 Gloves off, Michigan and Wisconsin waged a war of words this past week over which state is more, well, mitten-like.
The two Midwestern states have swapped fuzzy woolen blows ever since Travel Wisconsin featured a pea-green mitten on its Web site. When Michiganders saw a Wisconsin-shaped mitten on the site, they became confused. Wasn't Michigan the mitten state?
The debate raged on last week, fueled by local newspapers and television stations that trolled local delis and country stores asking citizens which state was, in fact, the mitten state. As one might expect, Michiganders never saw their neighbor as a challenge for this title and Wisconsinites took kindly to the idea.
Citizens of both states have long held up a hand to show where they lived, but the mitten has generally been associated with Michigan.
'Don't Mess with the Mitten' T-shirts, oven mitts shaped like the state, and other trinkets have long dominated our Midwestern fashion and our discourse, Ann Arbor musician Alejandra O'Leary told the International Business Times. I believe many Michiganders took Wisconsin's new marketing campaign as an outrage and a pathetic attempt to capitalize on our long-held mitten title when Wisconsin threw their, ahem, mitten, into the fray.
The state boasts several mitten-themed establishments like the Wet Mitten Surf Shop in Grand Haven and Traverse City and the Mitten Bar in Ludington - a city connected to Manitowoc, Wis. by a summer ferry.
Lisa Marshall of Travel Wisconsin told the International Business Times that it was never their intention to usurp the mitten, but that it was amusing how over 2,000 Michiganders visited the Travel Wisconsin site last Wednesday and Thursday when the debate heated up.
In reality, Michigan is the mitten state, she said. We were never trying to take that from them.
But that didn't stop Travel Wisconsin from making the mitten even more of a Wisconsin icon, chucking a cheesehead right on top.
Most in Wisconsin don't see why Michiganders got their yarn in a twist.
As part of our ongoing campaign, we've formed several items into the outline of the state, Marshall said. In the fall it was a leaf and as the season changed, we wanted to use an iconic winter image.
According to Marshall, Travel Wisconsin and Pure Michigan are old friends. The two tourism boards actually work together to promote the Midwest internationally. So when Pure Michigan caught wind the mitten matter, Travel Wisconsin encouraged them to take the debate across Lake Michigan.
Last Thursday, Pure Michigan created a page titled Who is the Real Mitten State? where interested parties could vote. Given the poll's prominent location on the Michigan site, it's no surprise that the state currently enjoys a 70% lead over its neighbor.
Obviously here in Michigan we believe that we are the true mitten state, Michelle Begnoche of Pure Michigan told the International Business Times. We are the Great Lakes State and we have a lot of pride and I think that's what you've seen here with the mitten war.
It's been great in that we've had such a wonderful public outpouring all about state pride, Begnoche adds. We've had close to 30,000 folks vote on the poll.
Begnoche reiterated that it's all light hearted fun and said both tourism agencies are now working together for a good cause.
Tourism officials in both Wisconsin and Michigan have parlayed the recent dust-up into a donation drive, joining mitten-covered hands to capitalize on recent publicity with the Great Lakes Mitten Campaign.
Wisconsin officials are urging people to drop off mittens at travel centers across the state and participating chambers of commerce through Jan. 15. The collected mittens will then be donated to local charities.
Michigan officials, meanwhile, have asked people to donate mittens directly to their favorite charity.
There has been a lot of national excitement surrounding the debate over whether Wisconsin or Michigan looks more like a mitten, Wisconsin Gov. Scott Walker said in a statement. Our Pure Michigan friends have agreed to join us in taking all of this attention and turning it into something positive. We encourage everyone in both states to 'shake hands' and donate mittens to help make this winter a bit warmer for those in need.
With the new mitten donation campaign, hands in need from both states will benefit - but that doesn't mean the mitten mess is over.
Midwesterners on both sides of Lake Michigan will likely quarrel for weeks to come, but many in Wisconsin say they've moved on.
Michigan can have their mitten, University of Wisconsin student Kyal Berends told the International Business Times. We're headed to the Rose Bowl!
© Copyright IBTimes 2023. All rights reserved.