'Great News' Season 2, Episode 11 Spoilers: Tina Fey's Diana Returns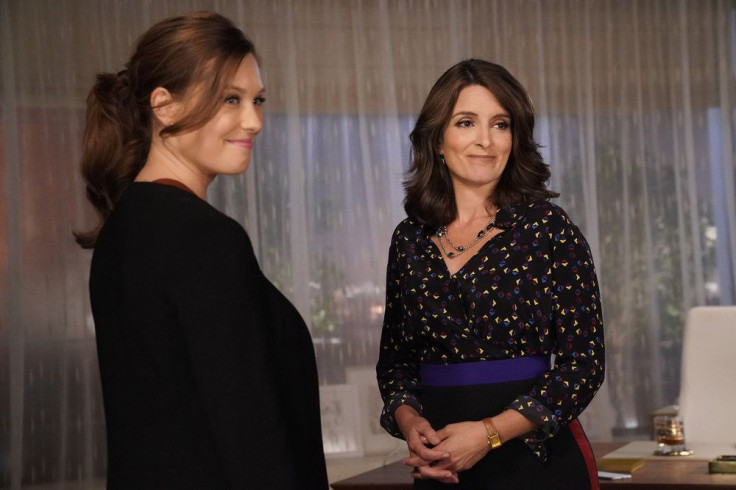 Tina Fey is reprising her role as Diana St. Tropez in this week's episode of "Great News."
According to the synopsis for Season 2, episode 11 of the NBC workplace comedy, Diana demands that Katie (Briga Heelan) and Greg (Adam Campbell) spend the night together fact-checking a story. But since Katie has realized that she has feelings for Greg, spending the night with him puts her intentions to the test as she struggles not to make a move on her boss, who appears to have recently broken up with his girlfriend Cat (Jayma Mays).
Elsewhere in the episode, Chuck (John Michael Higgins) is convinced he can solve the problem when "The Breakdown" staff finds themselves embroiled in a lawsuit with eccentric billionaire Fenton Pelt (Jim Rash). But when Chuck's attempts to save the show backfire, he enlists the gang's help to pull off an elaborate heist.
In an interview with TV Insider last October, Fey — who first appeared in the first three episodes of the season — admitted that she misses doing a TV series, so when a new role for Season 2 came up, the two-time Golden Globe winner offered to play the new character herself.
"I hadn't done any series TV in a while, and I know so many people [on the show] that I figured it'd be fun," Fey said. "I know some of the writing staff, I know the assistant director, the director and Horatio Sanz [who plays video editor Justin], who was on 'SNL' with me. It's like old home week."
"Great News" creator Katie Wigfield, who worked with Fey on "30 Rock," was overjoyed to have the latter on the set. "It was such a thrill to have her come into our world and see her in scenes," Wigfield told Variety. "I did feel when I was on set, it's like when your teacher comes, being a little more on high alert like, 'Yes, everything's under control. This is the very good way in which the show always runs. Everything's smooth and nothing's on fire.' She has been a wonderful mentor to me for the past 10 years and as much as we are both executive producers on this show, there's very much a part of me that wants her to know I'm doing a good job."
"Great News" Season 2, episode 11, titled "Competing Offer," airs on Thursday, Jan. 11 at 9:30 p.m. EST on NBC.
© Copyright IBTimes 2023. All rights reserved.