'Great News' Sneak Peeks: Carol Looks For New Job; 'The Breakdown' Sued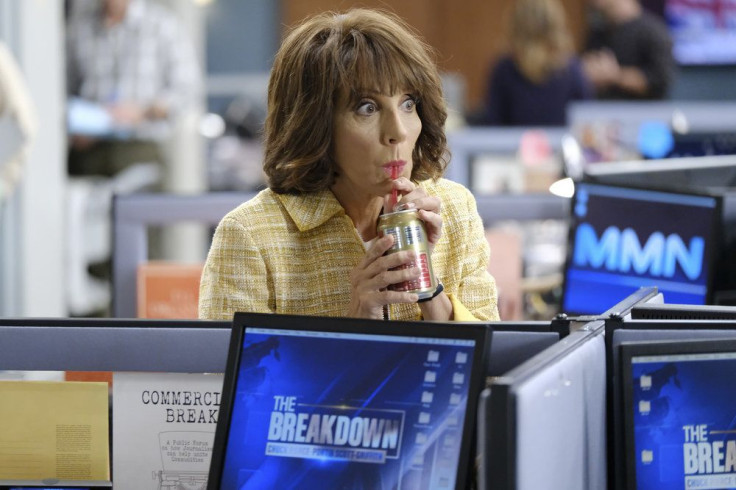 Is Carol leaving "The Breakdown"?
In a sneak peek from this week's Season 2, episode 11 of NBC's "Great News," Carol (Andrea Martin) bumps into the hosts of "Morning Wined Up" and surprisingly asks them if there's any job vacancies on their show.
"Hello, ladies. My name is Carol Wendelson," Carol tells the two hosts. "I'm an intern at 'The Breakdown' but I'm looking to take my next step. Are there any openings at 'Morning Wined Up'?"
When the hosts are seemingly about to dismiss her, Carol reveals that she's a huge fan of the two. "I maybe a little long in the tooth to be chasing my dreams, but Kelly I know from your autobiography that you didn't get your start on television until you're 40. And Mary Kelly I know from your autobiography that you had sex with Wee Man."
Impressed by how much Carol knows them, Kelly says, "You are so cute. I bet we could find you a job as a PA or something."
"Really? Thank you so much!" Carol replies. "I'll be in touch as soon as I tell my boss Greg (Adam Campbell) about your offer."
As Carol appears to be looking for greener pasture, the rest of "The Breakdown" team has a serious situation on their hands as eccentric billionaire Fenton Pelt (Jim Rash) has filed a lawsuit against them.
In another sneak peek from the episode, Greg tells everyone that Fenton is suing the show over a story they did about his company. "They're saying it's inaccurate," Greg says of the report.
Despite being specifically named in the lawsuit, Chuck is unfazed. "Get in line. I've been sued a dozen of times. That's why I have my lawyer on speed dial," the news anchor says. "This isn't a big deal."
But Diana (Tina Fey), who suddenly appears on the TV screen at the meeting room, begs to disagree. "This is a very big deal," the MMN exec says. "The reason I am here is that we are on the edge of a crisis. This lawsuit has the potential to destroy the network."
Elsewhere in the episode, according to the synopsis for the installment, Katie (Briga Heelan) — who realizes that she has feelings for Greg — is determined not to make a move on her unavailable boss. Her intentions are put to the test, however, when Diana demands that the two spend the night together fact-checking a story.
"Great News" Season 2, episode 11, titled "Competing Offer," airs on Thursday, Jan. 11 at 9:30 p.m. EST on NBC.
© Copyright IBTimes 2023. All rights reserved.