'Grey's Anatomy' Season 13 Spoilers: Meredith Shuts Riggs Down Once And For All In Episode 4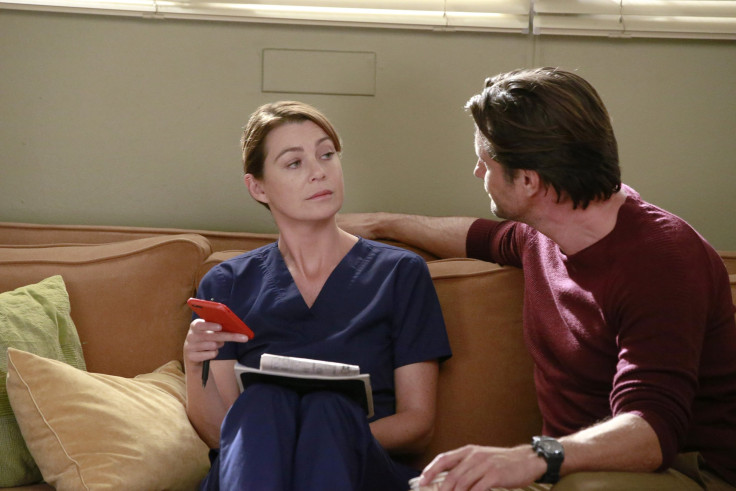 After complying with Meredith's orders to politely decline Maggie's advances in Season 13, episode 3 of "Grey's Anatomy," Riggs is ready to define the relationship — but he may not be on the same page as his love interest.
With a renewed sense of hope in episode 4 — titled "Falling Slowly" — Riggs (Nathan Henderson) attempts to approach Meredith (Ellen Pompeo) about a casual hang out. He is, once again, shut down by the surgeon, who declares that she doesn't do that and they're "not that kind of friends." This, coupled with the fact that Maggie (Kelly McCreary) isn't acting like her usual self around Riggs, is making things weird around Grey-Sloan Memorial Hospital. An emergency in the hospital forces Meredith and Riggs to join forces once more. The pair work to keep their patient alive, which hits a minor speed bump.
Still Riggs is convinced he and Meredith work well together, but she's not sold. Meredith questions whether Riggs is in awe of her medical knowledge and ability because of their fling or because she really is a good doctor. He assures her that he believes she was right and Owen (Kevin McKidd), who was also working on the patient, was wrong. It seems, however, that being revered by Riggs isn't enough to convince Meredith to give him a chance.
The pair sit down once more to discuss their status and Meredith suggests that they just be co-workers. Riggs questions why they can't, at the very least, be friends when Maggie approaches. Riggs is quick to make the conversation look like no big deal, which leaves Maggie thinking Meredith and her crush were discussing her. She thanks her half sister for having her back and talking to him not knowing what Riggs and Meredith have been through.
While those two grapple with what they are or aren't, Amelia (Caterina Scorsone) and Owen are faced with relationship problems of their own. Not long after their marriage Amelia and Owen realize that they know nothing about one another. Amelia questions how they could possibly move forward in their relationship and have children when they don't know basic information about one another. Owen confides in Meredith about this, at which time she jokes that she's not "taking her back." Meanwhile, Amelia looks to Edwards (Jerrika Hinton), joking that the two of them should have just gotten married. Owen and Amelia decide the only way to solve their problem is to get to know each other better, so they start digging into their pasts. They discover that they're both damaged, but are better for having weathered a few storms and their children would be just fine too. As such, they conclude that there is no better time than the present to start trying for a baby.
Scenes for the upcoming episode of "Grey's Anatomy" suggest they waste no time. Amelia is seen sharing the good news with April (Sarah Drew) and Meredith — but is she certain? At one point Meredith proclaims "I hugged you and you haven't even peed on a stick yet?" suggesting that Amelia simply thinks she's pregnant.
Tune in Thursday at 8 p.m. EDT on ABC to find out how all this will affect the doctor's moving forward.
© Copyright IBTimes 2023. All rights reserved.