Grinning Baboon Gropes Reporter's Breast While On Air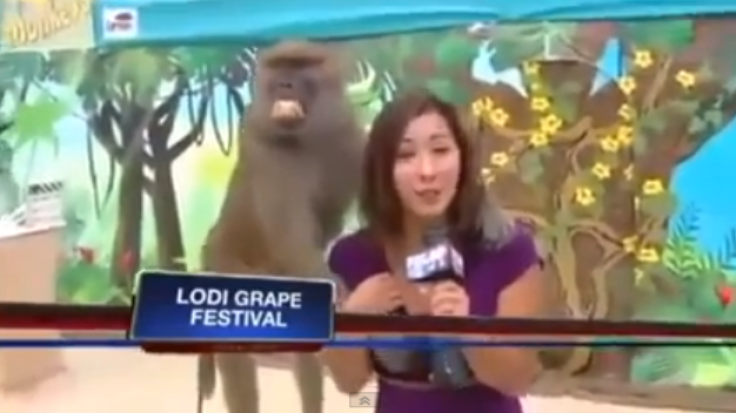 A female reporter with Fox 40 in Sacramento, Calif., had the shock of her life when a baboon groped her during a live broadcast before looking into the camera and baring his teeth in what looked like a grin.
According to reports, Sabrina Rodriguez was talking about a local wine festival when the incident occurred, and she continued with the report as if nothing happened. She even joked about the incident on air, which took place earlier this month, saying, "He's trying to cop a little bit of a feel."
Rodriguez introduced Mickey to viewers during the start of the segment where he politely shook her hand. But, soon the baboon, named Mickey, jumped behind her and despite her best efforts, the baboon refused to move his hands until she wrapped up her segment.
When a viewer later questioned Rodriguez on whether the baboon was smiling or mad, she replied on her Twitter feed that "I'm gonna go with smiling #CheekyMonkey."
According to Daily Mail, Rodriguez, an Emmy award-winning television news reporter, was doing a report on the Lodi Grape Festival where she did a segment called "Wild About Monkeys," which talked about the social behavior of baboons and their preference for grapes.
Mickey rose to the limelight after sharing screen space with Tom Cruise in "Rock of Ages," which released in 2012, and according to the director of the film, Adam Shankman, Mickey was equally cheeky on the sets of the film, Daily Mail reported.
"One day the baboon got loose, and he was running up and down the street yelling at extras. We had to stop for 20 minutes and wrangle him," Shankman told The Wrap.
"Those are canines on that baby. He's very sweet. Very sensitive. Tom Cruise did a scene where he was actually talking to the baboon — it's not currently in the movie — and he had his face really, really close. Forehead to forehead. I was shivering. But the baboon loves him. Every day we wrapped, Tom would hug me and shake me and say, 'I am having the best time, thank you,'" he added.
© Copyright IBTimes 2023. All rights reserved.