Hallmark Spring Fever Movies 2019 Schedule: 'Love To The Rescue' And More
Although spring doesn't officially arrive until March 20, Hallmark Channel's getting a head start on the season with its first Spring Fever premiere of 2019, "Flip That Romance," on March 16.
There are quite a few more seasonal romances on the lineup — five more to be exact. That's right, fans have a total of six new Spring Fever movies (including one marking Nick Bateman's network debut) to look forward to seeing on Hallmark Channel this year, and we've got all the details right here.
Here's the full 2019 Spring Fever schedule:
"Flip That Romance" (March 16 at 8 p.m. EST)
Cast: Julie Gonzalo, Tyler Hynes
Jules (Gonzalo) and Lance (Hynes) once flipped a property but broke up in the process. Now each owns half a duplex and they start a flipping contest. Word of the "dueling duplexes" reaches the editor of Innovative Designs, who offers the winner a magazine spread. But when a storm kills the power, and Lance and Jules work by candlelight, their romance rekindles, only to get snuffed out when Lance hires a painting crew without consulting Jules. Confused, Lance gets fatherly advice, while Jules consults her mom about releasing resentments. Hopefully while renovating their duplex, these two can flip their romance as well.
"Love to the Rescue" (March 23 at 8 p.m. EST)
Cast: Nikki DeLoach, Michael Rady
Single mom Kate (DeLoach) and single dad Eric (Rady) have both promised their kids they could adopt Bruce the dog. So, after agreeing to joint custody for a month to determine which home will be best for Bruce, Kate is forced to face her fear of falling in love again when the handsome dad captures her unsuspecting heart.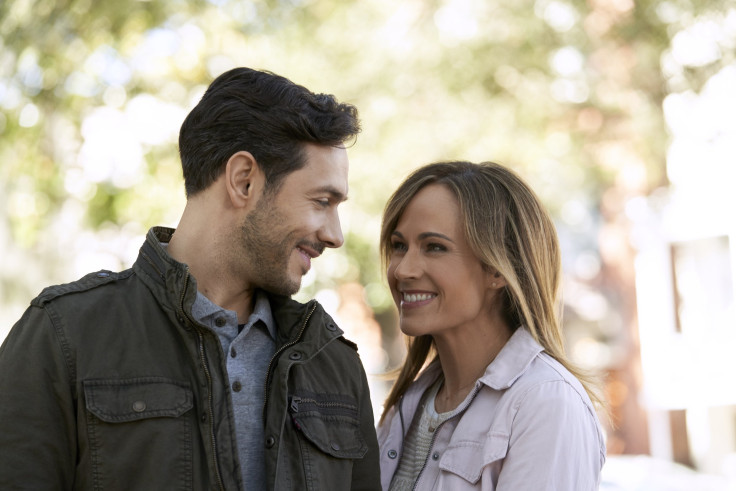 "A Brush With Love" (March 30 at 8 p.m. EST)
Cast: Arielle Kebbel, Bateman
Jamie (Kebbel) struggles to balance her dream of painting with the reality of such a difficult career choice but plans to expand her kids' art school with the help of her dad. When she is selected to exhibit in a big art festival, however, her desire to paint is reawakened. Her dream of finding the perfect man is also about to become a reality, when Jamie is courted by a handsome businessman, and must choose between him and Max (Bateman), her best friend's brother.
"True Love Blooms" (April 6 at 8 p.m. EST)
Cast: Sara Rue, Jordan Bridges
Vikki (Rue) runs the community garden, threatened by Chace (Bridges), a developer who wants to replace it with condos. Determined to stop him, Vikki goes to his office with a peace lily, hoping to help the businessman see green in a different way. While he's taken by Vikki's drive, Chace says the project will go on, notwithstanding her petitions or protests. However, wanting to prove he's not a villain, Chace takes Vikki to a construction site, where she sees how it's a source of pride to him and all the workers involved. But despite seeing the other's viewpoint, they remain at a stalemate. Hopefully they will find a way to hurtle their impasse and find true love.
"Bottled With Love" (April 13 at 8 p.m. EST)
Cast: Bethany Joy Lenz, Andrew Walker
Abbey (Lenz) is a career-focused executive from Boston who decides in a moment of impulsiveness, to pour her feelings out and admit her desire to find love, in an anonymous letter she seals in a bottle and tosses into Boston Harbor. Months later, the bottle washes ashore in Maine and is discovered by Nick (Walker), son of the CEO of Everett Valley Farms – the company where Abbey works and is about to secure the biggest deal of her career. When Nick is called home to help with his father's company, he decides to contact the mystery woman with the only information he has – an email. Without knowing each other's identity, Abbey and Nick begin an online relationship which becomes a budding romance, while at the same time, they are being forced to work together on a project where they are not getting along.
"Easter Under Wraps" (April 20 at 8 p.m. EST)
Cast: Fiona Gubelmann, Brendan Penny
Marketing director at Cavendish Chocolates, Erika (Gubelmann) goes undercover to see why sales have declined and learns from handsome chocolatier Bryan (Penny) automation has replaced quality. Later, at the museum, Erika is saddened to see the replica of the Cavendish egg, and is inspired by Bryan's Easter egg sketches to go retro and bring back the legendary confection! Excited, the two pitch the idea to board members, who know Erika is undercover. Too bad Bryan sees her photo at a Cavendish event, and feeling duped, wonders if he should accept a job offer from a rival company.
© Copyright IBTimes 2023. All rights reserved.