Hallmark's 'Chesapeake Shores' Season 3 Renewed: 6 Things We Need To See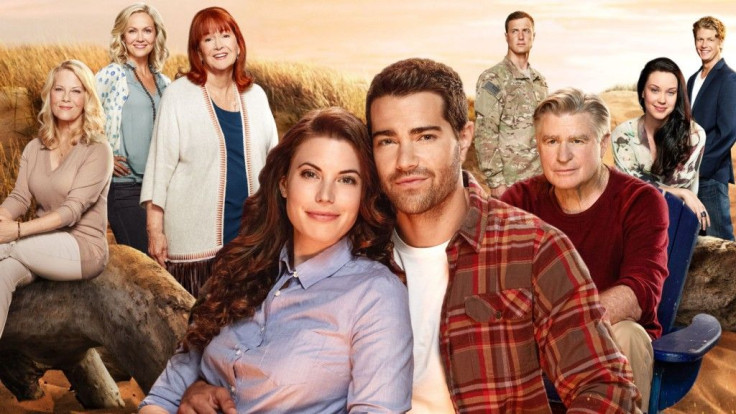 Fans have been waiting months since the "Chesapeake Shores" Season 2 finale in October to hear whether the series would be renewed, and they finally got their answer on Saturday when Hallmark Channel announced at the Television Critics Association winter event that it will be back for a Season 3 this summer.
This renewal news means that lovers of the hour-long drama series will be seeing 10 new episodes this year, but what exactly will happen when the show returns is still unknown. Until the details come out, we'll just have to imagine all that we want to see happen, like these six things.
1. An Abby and Trace Reunion
The end of Season 2 brought with it the end of Abby (Meghan Ory) and Trace's (Jesse Metcalfe) relationship, at least for the time being. He and his band got a huge offer to tour and Abby decided to not stand in his way, so they decided to take a break and she told him, "If we're meant to be, this isn't the end." And hopefully, they are meant to be and they will reunite in the new season.
2. The Return of David
Jess (Laci J. Mailey) was finally in a good place with her inn and with her love life, but both of those quickly changed at the end of last season when her chef and boyfriend, David (Carlo Marks), told her he had to leave because his family needed him to help out while his father was sick. While it was nice to finally learn more about David and his wealthy family, it would be favorable to either see Jess get to travel around the world with him, or see him return to the inn eventually, or both.
3. A Book Tour for Bree
While Bree (Emilie Ullerup) said goodbye to her author love interest, Simone (Oliver Rice), she also said hello to a publishing deal. She got the news that her manuscript was going to be printed and the new season would be the perfect opportunity to see Bree learn what it's like to promote her work. Plus, it wouldn't hurt to get to see her shove this in her ex-boyfriend Martin's (Kyle Cassie) face.
4. A Tell-All About Dylan O'Malley from Nell
Some of the characters in the show, as well as the fans watching, finally learned more about Nell (Diane Ladd) and the mysterious Dylan O'Malley she was in love with back in Ireland, but will she continue to tell more about her story? Hopefully she will, and hopefully we'll find out if Dylan is still alive and if there's a chance for them to be together again.
5. Kevin in Medical School or Working as a Paramedic
Either option would be good for Kevin (Brendan Penny), but going to medical school would mean that he'd be leaving Chesapeake Shores, which he most likely won't be doing, so there's a good chance he'll be staying in town and continuing with his paramedic training. Not only does he love it, but he also has his love interest, Sarah (Jessica Sipos), there, too. If there's a time jump, hopefully we'll see him working as a paramedic and see him be the hero of the town.
6. More Original Music
Wherever Trace is, whether it's in Chesapeake Shores or a random city he's touring in, it doesn't matter, as long as he continues to play music, which he likely will be considering that's what he loves so much. But more than that, hopefully there will be more original songs instead of just one or two that are played repeatedly. They're good, but that's why we want even more.
"Chesapeake Shores" returns to Hallmark Channel with new episodes this summer.
© Copyright IBTimes 2023. All rights reserved.