Halloween 2016: Almost 200 Pumpkins Stolen From New Jersey Family Farm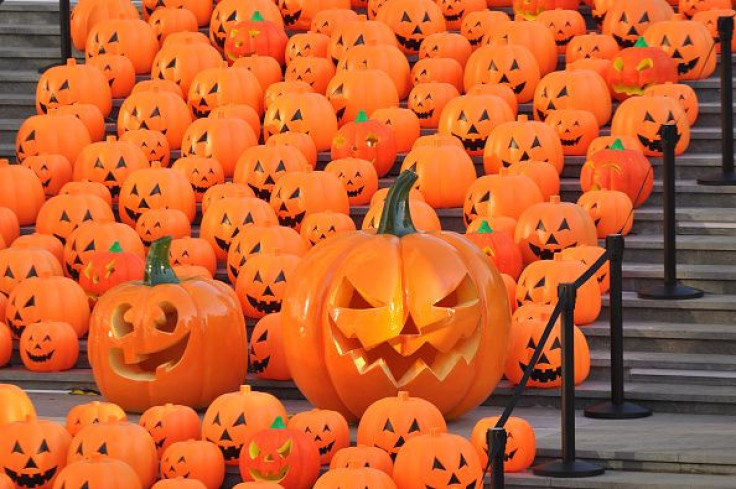 A New Jersey family is not having a very good National Pumpkin Day after nearly 200 of their pumpkins were stolen overnight Tuesday. The family that runs Farm Views in the township of Wayne has surveillance footage showing individuals emerging from a van and removing pumpkins from the property on several occasions, NBC New York reported.
Todd Kuehn, the son of the owner of the family-run business which has been operating for more than 100 years said the amount of pumpkins taken could have been sold for anywhere between $2,500-$3,000.
In the surveillance video, four people were seen exiting a minivan around 1:30 a.m., approaching the property to remove pumpkins. Three trips were made in order to remove the large amount of pumpkins. Kuehn reportedly described the robbery as "frustrating."
In the fall, Farm Views offers customers the opportunity to pick pumpkins and enjoy hayrides around the property. The family is currently offering a $1,000 reward for information that leads to the arrest of the thieves. The Wayne Police Department is currently investigating the crimes, anyone with information can call 973-633-3530.
The New Jersey family isn't the only ones dealing with pumpkin thefts. Last Friday night, a three-year old's pumpkin in Moody, Alabama was stolen off of her front porch, CBS 42 reported. The mother of the girl explained that she was upset over the theft because her daughter put a lot of effort into picking out the pumpkin and making it special.
"She was so proud of herself because she carried it back 'all by herself.' Halloween is her favorite holiday, and she and her best friend had such a fun time that day. My daughter is 3 years old and when we told her what happened her kind little 3-year-old heart said, 'Maybe they took it because they didn't have decorations at their house,'" Smith said.
Moody police have released surveillance video that shows a female taking two pumpkins from in front of the Smith home.
© Copyright IBTimes 2023. All rights reserved.