Halsey Proudly Shows Glimpse Of Life As Parent In Latest Post [Photos]
Halsey has given fans a peek into their rewarding life as a parent by sharing photos of their baby, Ender Ridley, his rainbow-themed nursery and their post-partum stretch marks on Instagram.
Over the weekend, the 26-year-old "Without Me" singer shared a series of photos, including one of the newborn and the baby's colorful room.
The room was adorned with a light-up rainbow and above it was Ender's name in cursive script and multi-colored letters. The other wall decorations were also vibrant. On the left side of the rainbow, there was a blue paper with the words, "Feel Good Worm. Pet this worm when you're feeling sad and pretty soon you'll be feeling glad."
The second snap showed baby Ender wearing a colorful tie-dye shirt while the third one showed a mushroom-shaped footstool and a rainbow flag inside a plant vase. A colorful sun-shaped rug also added brightness to the room.
Another photo showed Halsey's boyfriend, screenwriter Alev Aydin, kissing their child. This was followed by a photo showing Halsey's postpartum stretch marks.
"Well…. this is what it look like," the singer captioned the group of images, which ended with a snap of a frog.
Halsey welcomed their baby on July 14, just a few days after they unveiled the cover of "If I Can't Have Love, I Want Power," which the singer described as a concept album about the joys and horrors of pregnancy and childbirth, according to People.
The album art showed Halsey sitting on a throne with her breast exposed and the baby sitting on their lap.
"The idea that me as a sexual being and my body as a vessel and gift to my child are two concepts that can co-exist peacefully and powerfully," Halsey told People.
"This cover image celebrates pregnant and postpartum bodies as something beautiful, to be admired," the singer said further. "We have a long way to go with eradicating the social stigma around bodies & breastfeeding. I hope this can be a step in the right direction!"
Halsey shared their childbirth experience in an emotional Instagram post on July 19. In the caption, they wrote, "Gratitude. For the most 'rare' and euphoric birth. Powered by love. Ender Ridley Aydin 7/14/2021."
In the photos, the "You Should Be Sad" singer could be seen cradling their newborn while Aydin lovingly gazed at the mother and baby. In the second image, baby Ender's pinky finger protruded while being breastfed by Halsey.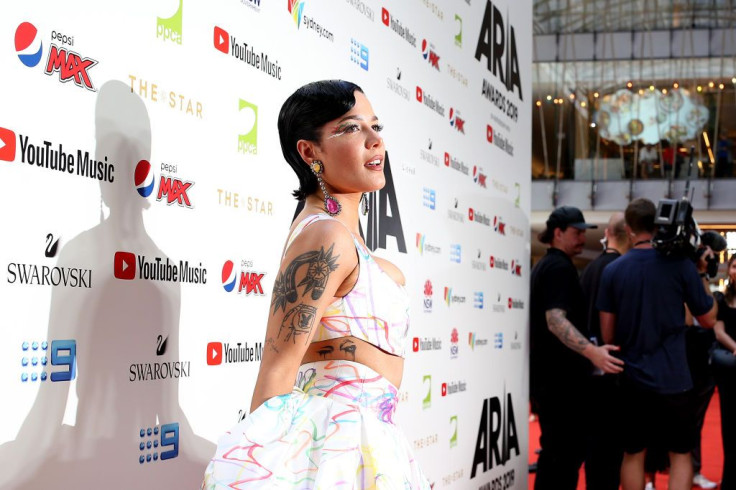 © Copyright IBTimes 2023. All rights reserved.