'Happy!' Season 1 Finale Spoilers: Episode 8 Synopsis, Trailer Released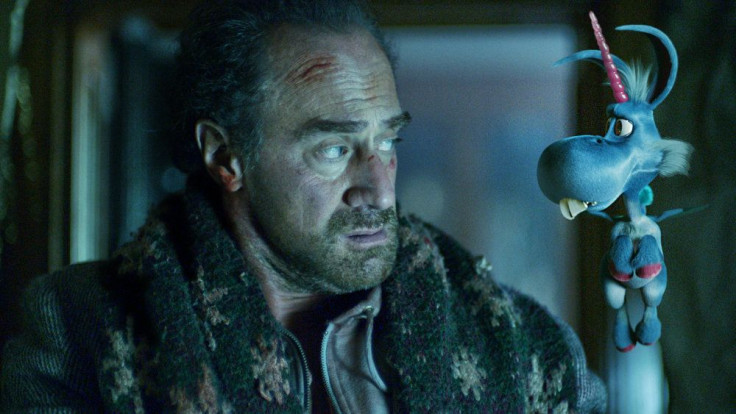 Nick and Happy must find Very Bad Santa's whereabouts to save Hailey once and for all in the Season 1 finale of "Happy!"
According to the synopsis for Season 1, episode 8 of the Syfy crime dramedy, Nick (Christopher Meloni) and Happy (voiced by Patton Oswalt) find themselves locked in a climactic confrontation to rescue Hailey (Bryce Lorenzo) from Very Bad Santa's (Joseph D. Reitman) lair.
At the end of last episode, Nick and Happy caught up with the container truck carrying the kidnapped children. While the other kids were safe inside, the partners were devastated when they discovered that Hailey was no longer there. Apparently, Hailey was taken by Very Bad Santa as Nick found one of the psychopath's winter gloves inside the truck.
In the trailer for the finale, Happy tells Nick that he has come up with an idea on how they can locate Very Bad Santa. Moments later, Happy is seen threatening who appears to be Very Bad Santa's imaginary friend. "Tell us where he is," Happy menacingly asks his abductee. Happy's idea appears to have worked as Nick is shown hitting Very Bad Santa's head with a concrete block at the end of the promo clip.
Elsewhere in the finale, as stated in the synopsis, Merry (Lili Mirojnick) sets out to save Amanda (Medina Senghore) from a far more powerful foe: Sonny Shine (Christopher Fitzgerald).
After finding out that all the missing kids were kidnapped during one of Sonny's shows, Amanda personally asked Sonny to use his celebrity status to bring attention to the children's disappearances. Much to Amanda's disappointment, Sonny refused to help, telling her that he's in show business to entertain kids, and not to raise them. But later in the episode, Sonny was revealed to be Mr. Bug, the very man responsible for the kids' disappearances. Though Amanda has no idea that Sonny was the one who kidnapped Hailey, he still locked up Amanda in his office building to make sure the she won't go anywhere.
"Happy!" Season 1 finale, titled "I Am the Future," airs on Wednesday, Jan. 31 at 10 p.m. EST on Syfy.
© Copyright IBTimes 2023. All rights reserved.