Hawaii Helicopter Crash: Teen Critically Injured After Chopper Crashes Into Pearl Harbor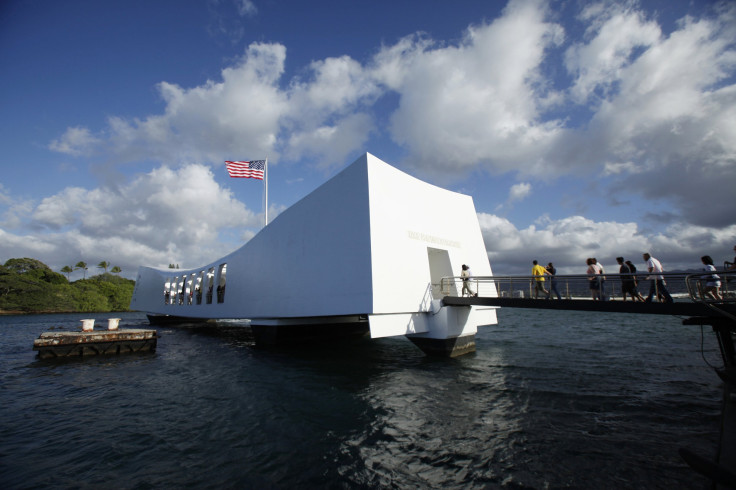 A teenaged passenger was critically injured Thursday after a helicopter he was in with four others crashed into Hawaii's Pearl Harbor. The moment of the crash was captured in a video that is now being circulated on social media.
Agnes Tauyan, a spokeswoman for the U.S. Navy, said that the Bell 206 aircraft landed and then sank near the Pearl Harbor Visitor Center, a popular tourist site on Oahu Island. The names of the people on board the helicopter were not made available while bystanders in the area helped in rescue, the Associated Press (AP) reported. The helicopter went down 20 feet offshore, near the visitor center's lawn.
"I took off my shirt and dove in," Chris Gardner, one of the bystanders who helped to rescue the passengers on board, said, according to the AP, adding that he, a Navy sailor, a federal police officer and another man dove to the submerged helicopter in turns and tried to rescue a passenger with a knife. "He was strapped into his seat in the back of the aircraft," Gardner added, according to AP, which added that the passenger was eventually freed and taken to a hospital nearby.
Paramedics in Honolulu treated the 16-year-old boy who was in critical condition. "It was a team effort and we pray that he's OK," Gardner said, according to AP.
Justice Winrich of Madison, Wisconsin, saw the crash and said, according to AP: "I saw it like as it was coming in, and it looked pretty normal. It didn't look like it was shaking or anything," she said, according to AP, adding: "It just started like getting really close this way and started going down."
As the helicopter flew closer to water, she saw a black plume of smoke coming out from the back of the helicopter, which was shaking. Three people from the helicopter immediately got out after it hit the water and started swimming toward the shore.
"I was like, oh my God, I can't believe this just happened. It was crazy," Winrich said, according to AP, adding: "You go on vacation and you never think you're going to see something like that."
Paramedics said, according to the Mirror, that a 50-year-old man and a 45-year-old woman were in stable condition at the Pali Momi Medical Center, while the condition of the other two was not clear. The teenager was taken to The Queen's Medical Center, a local news network reported, according to the Mirror.
Last month, two military helicopters crashed off Oahu Island, which led to 12 marines on board going missing. The authorities declared them deceased after five days of search was unfruitful. No distress call was issued by either of the aircraft.
© Copyright IBTimes 2023. All rights reserved.