Heidi Montag To Lauren Conrad: You Blamed Your Sex Tape On Me! [VIDEO]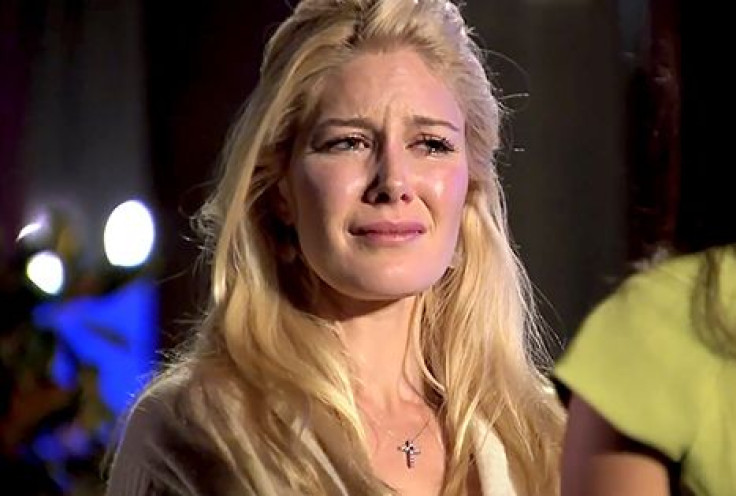 Heidi Montag forgave Lauren Conrad on the WE TV reality show "Marriage Boot Camp." The two famously had a falling out on television about an alleged sex tape, and when Montag was asked to forgive someone during an activity for the show, she chose her former best friend from MTV's "Laguna Beach."
Montag was put in front of a maze and had the choice to walk down the path of forgive or forget. "Well, she so famously said she wants to 'forgive and forget you' and I just wanna forgive her," the reality star said. "I definitely feel the weight of the emotional baggage that I carried from this person and I'm sick of it."
At the end, she explained she wanted to forgive her old pal and cast mate. "I was the best friend you've ever had," she said. "I am so mad at you for feeling like, because you put me on TV, I was indentured to you for everything. I am so mad at you, how awful you treated me," Montag said, before she finally shouted: "You had your sex tape and you blamed it all on me!"
Conrad, 29, did not appear on the show, but instead a brunette stood in the blonde's place. "I forgive you for everything. I just don't want to have this with you anymore. I do love you despite everything you've done for me. I do," Montag finished.
During Season 3 of "The Hills," it was rumored that Montag, 28, and Spencer Pratt, 31, fabricated a story that Conrad and then-boyfriend Jason Wahler, 28, made a sex tape.
Check out the emotional clip below:
Conrad has not responded to the episode. Instead, she promoted her lifestyle website, which is named after her.
Follow me on Twitter @mariamzzarella
© Copyright IBTimes 2023. All rights reserved.