Hillary Clinton Calls Brett Kavanaugh 'Devastating,' Promotes Protests Against Supreme Court Nominee
Former Secretary of State Hillary Clinton spoke out against President Donald Trump's Supreme Court nominee Brett Kavanaugh, on Sunday, urging her followers to join the rallies organized by pro-choice and union groups to protest against POTUS' controversial choice.
"The next Supreme Court justice could shift the court to the right for decades, with devastating consequences for reproductive rights, health care, workers' rights, and voting rights," Clinton wrote.
In a separate tweet, she directed her followers to participate in "Stop Kavanaugh" protest rallies, scheduled to take place Aug. 26.
This was not the first time Clinton publicly disapproved of Kavanaugh's nomination. Soon after Trump announced his choice for Supreme Court justice in July, his 2016 presidential race opponent openly criticized the decision at an American Federation of Teachers' conference.
"This nomination holds out the threat of devastating consequences for workers' rights, civil rights, LGBT rights, women's rights… It is a blatant attempt by this administration to shift the balance of the court for decades and to reverse decades of progress. You know I used to worry that they wanted to turn the clock back to the 1950s, now I worry they want to turn it back to the 1850s," she said, Mother Jones reported.
One of the primary reasons for Clinton's disapproval of Kavanaugh could be because he played a lead role in drafting the 1998 Starr Report, under Independent Counsel Ken Starr, which contained findings of the investigation into her husband and former President Bill Clinton's real estate deal in Arkansas. The report, which also looked into former President Clinton's affair with Monica Lewinsky while he was still commander-in-chief, led to the infamous impeachment proceedings against him. Apparently, Kavanaugh was the one who gave Starr the idea to question Bill about his affair with Lewinsky, as part of the investigation.
However, this is not the primary reason for Kavanaugh being disliked by most members of the Democratic Party.
A day after Trump's announcement for Supreme Court nominee, Senate Minority Leader Chuck Schumer (New York) said: "In selecting Judge Kavanaugh, President Trump did exactly what he said he would do on the campaign trail — nominate someone who will overturn women's reproductive rights and freedoms and strike down health care protections for millions of Americans, including those with preexisting conditions."
Apart from those issues, Democrats were also unhappy about the fact that Kavanaugh had an overwhelmingly favorable attitude toward exempting the president from any criminal proceeding while in office – a fact that could play to Trump's advantage in the light of special counsel's investigation into Russian interference in the 2016 election, Vox reported.
Kavanaugh wrote in an article for the Minnesota Law Review from 2009 that the Congress should pass a law that made sure that a sitting president is not burdened by "civil suits, criminal investigations, or criminal prosecutions."
"I believe that the President should be excused from some of the burdens of ordinary citizenship while serving in office," Kavanaugh wrote.
He also believed that "indictment and trial of a sitting President" would "cripple the federal government."
Also, there is an array of issues on which Kavanaugh is known to have a sternly conservative outlook – he questioned the constitutionality of the Consumer Financial Protection Bureau and supports limiting regulations on big corporations; he harbors a distrust of Federal Communications Commission's decision to institute net neutrality rules and Environmental Protection Agency's attempts to regulate air pollution; and he argued in 2011 that a ban on assault weapons was unconstitutional.
Meanwhile, Hillary's dislike for Kavanaugh is not one-sided. In "Blinded by the Right," a book by conservative operative turned Democratic fundraiser David Brock, the writer recalled witnessing Kavanaugh calling the former first lady a "b----" at a 1998 event in Fox News host Laura Ingraham's house where Republicans were watching Bill's State of the Union address.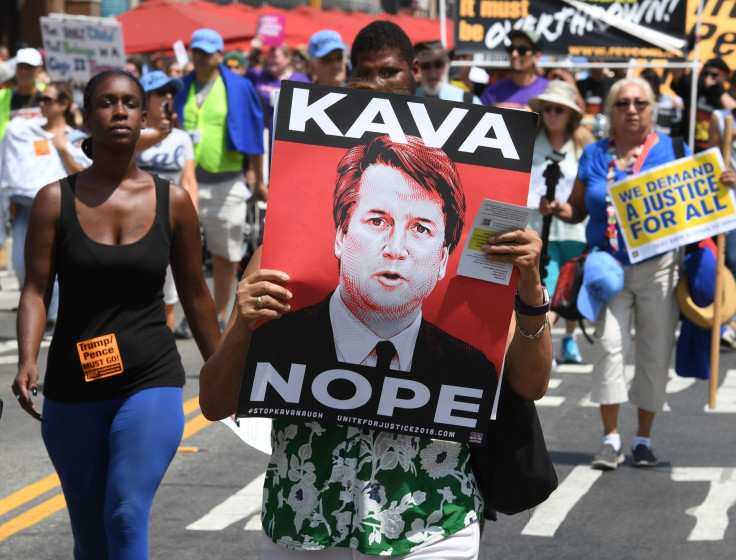 © Copyright IBTimes 2023. All rights reserved.