Hillary Clinton, Donald Trump Latest Polls: Is Clinton Leading In Florida, Pennsylvania, Nevada And Colorado? Gary Johnson Gaining Ground?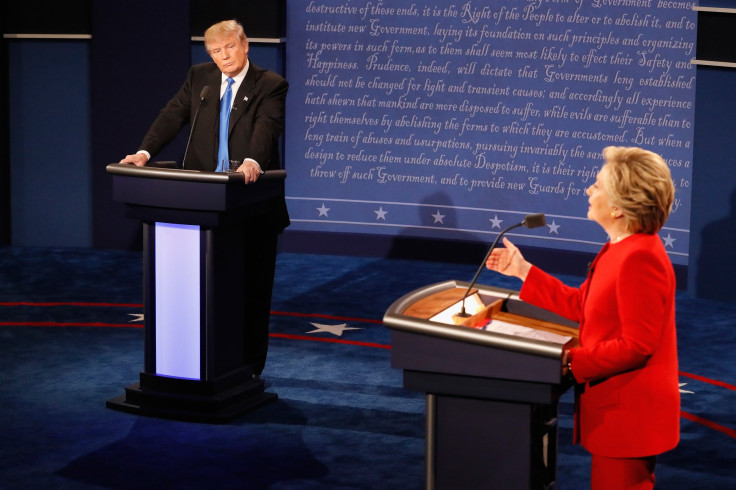 With 35 days remaining until the presidential election, Republican nominee Donald Trump and Democratic nominee Hillary Clinton remain in an increasingly tight race based on the latest polls. In a Los Angeles Times/USC Tracking poll released on Sunday, Trump leads Clinton in a two-way race among likely voters, 46.9 percent to 42.2 percent. But a Fox News poll released on Friday had Clinton leading in four-way race 43 percent to 40 percent, with Libertarian nominee Gary Johnson at 8 percent and Green Party nominee Jill Stein at 4 percent, and with Clinton leading Trump in a two-way race, 49 percent to 44 percent.
While polls have fluctuated, Clinton has remained the favorite to win the election. According to fivethirtyeight.com, Clinton has a 66.7 percent chance of winning, and paddypower.com has Clinton as a 4/11 favorite over Trump, who has 5/2 odds.
The polls that matter the most are in battleground states, and Clinton currently has an edge in highly coveted Florida. In a poll conducted by Mason-Dixon Polling & Research, Clinton leads Trump in a four-way race, 46 percent to 42 percent, with Johnson receiving 7 percent and Stein receiving 1 percent. Clinton also has a very slim lead over Trump in an Opinion Savvy poll for Fox 13 Tampa Bay and Fox 35 Orlando at 46.6 percent compared to 46.3 percent. Johnson polled at just 3.9 percent, while Stein received 1.7 percent.
Nevada voters also lean towards Clinton. In a poll conducted by Bendixen & Amandi International for the Las Vegas Review-Journal, Clinton received 45 percent compared to 44 percent for Trump and 5 percent for Johnson. A Suffolk University poll gave Clinton an even wider advantage over Trump, with 44 percent to Clinton and 38 percent to Trump, in a five-way race.
Last week, polls were conducted for Pennsylvania and Colorado, with Clinton owning a narrow lead in both states. In a four-way race in Pennsylvania, Clinton leads Trump 45 percent to 44 percent in a poll by CNN/ORC, with Johnson at 6 percent and Stein at 3 percent. Harper Polling had Clinton at 45 percent, Trump at 43 percent, with Johnson at 8 percent and Stein at 1 percent in Pennsylvania.
In Colorado, Clinton leads Trump in a two-way race, according to CNN/ORC. However, Trump leads Clinton in a four-way race, at 42 percent, with Clinton at 41 percent and Johnson at 13 and Stein at 3 percent.
President Barack Obama carried all four of the aforementioned states in the 2008 and 2012 elections.
Both Clinton and Trump have high unfavorability ratings, but Clinton has gained on Trump in recent weeks. According to averages from Real Clear Politics, Trump has a favorability rating of 38.3 and unfavorability rating of 58.1, compared to 43.1 favorability and a 54.0 unfavorability for Clinton.
Johnson's role continues to be intriguing. In 2012, he received 0.99 percent of the vote but continues to poll above 5 percent in recent months. In an NBC News/SurveyMonkey poll in September, Johnson received 10 percent and has polled as high as 13 percent in the last five months. The former two-term governor of New Mexico has an advertising campaign in Colorado, Iowa, New Hampshire, New Mexico, Oregon, Utah and Wisconsin.
It's unclear how much Johnson siphons votes from conservatives and liberals. Johnson, who will be on the ballot in all 50 states, draws broad support, according to the Pew Research Center. He is receiving 24 percent in a New Mexico poll conducted by Research & Polling Inc. for the Albuquerque Journal.
© Copyright IBTimes 2023. All rights reserved.