Hillary Clinton Foreign Policy Speech Live Stream: Watch San Diego Address Aimed At Donald Trump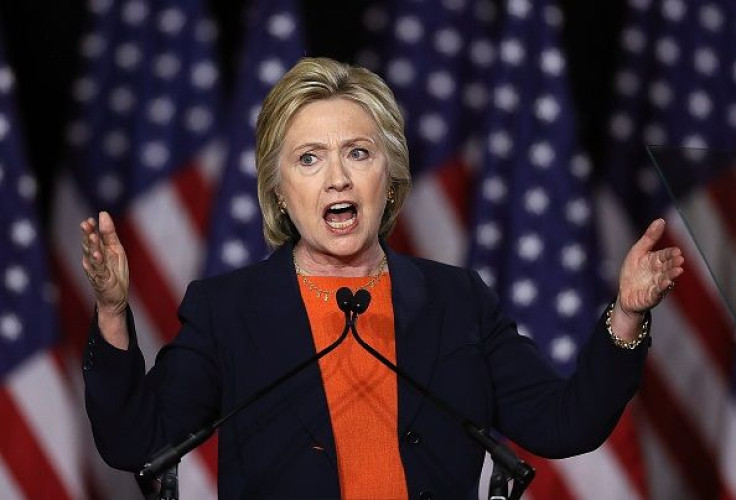 UPDATE: 3:38 p.m. EDT — Democratic presidential hopeful Hillary Clinton did not mince words while attacking the presumptive Republican presidential nominee during a speech Thursday in San Diego that painted Donald Trump as an unqualified candidate with "dangerously incoherent" ideas that include "outright lies."
Clinton described the choice between herself and Trump as one between a "strong, confident America that leads" and a "fearful America." She underscored her experience as secretary of state and said she would keep American security at the "heart" of her campaign.
Trump is "temperamentally unfit" to lead the U.S. as commander in chief, Clinton said before noting his lack of foreign policy experience and mocking his running of a Miss Universe pageant in Russia.
"We cannot put the security of children and grandchildren in Donald Trump's hands," Clinton said. "I believe he will take our country down a dangerous path."
Clinton described Trump as an "uncertain" candidate who would lead the U.S. into economic disaster and noted his lack of policy plans to deal with other countries and the Islamic State group, also known as ISIS.
The former New York senator listed her own credentials working with foreign governments, negotiating for a climate deal and fighting for LGBT rights around the globe. She said under a Clinton presidency the U.S. would stick with its allies and use diplomacy as a tool to try to prevent conflicts and work toward agreements such as the Iran nuclear deal.
Clinton stressed Trump could start a war if someone "got under his skin" and said it was "no small thing" when the New York businessman declares he would leave the NATO military and political alliance and alter America's political support toward Israel. Clinton said the Kremlin would be happy to see Trump elected as America's next president because he would not be able to deal with Russian aggression in Ukraine and Eastern Europe.
On cue, Trump took to Twitter to critique Clinton's speech as she was delivering it, describing her in part as failing to look presidential. Not to be outdone, Republican Speaker of the House Paul Ryan during Clinton's remarks publicly announced his support for Trump's candidacy.
Original story:
With less than a week before critical primaries in California and New Jersey, Democratic candidate and former Secretary of State Hillary Clinton will outline her foreign policy plans and attack Republican rival Donald Trump's credentials in a major speech in San Diego Thursday .
The speech is scheduled to begin at 2:30 p.m. EDT. A free live stream of Clinton's address is available by clicking here. Clinton is expected to address Trump's past statements on NATO, nuclear weapons and Muslims in her speech.
"She is going to make clear why Donald Trump is simply unqualified to be commander in chief," Jake Sullivan, Clinton's foreign policy adviser, told the Associated Press. "[Clinton] will go into specifics in a very direct and clear way about what makes Donald Trump unfit, both in terms of temperament and ideas. This is as full-throated and full-bodied a case as you will have seen from anyone on the danger that Donald Trump poses."
While Clinton eyes rival Vermont Sen. Bernie Sanders, she has been positioning herself in opposition to Trump on the campaign trail by criticizing his statements on banning Muslims from entering the U.S. and his positions on allowing other nations to gain nuclear arsenals.
"This is not just divisive rhetoric, my friends; this is dangerous," Clinton said while campaigning Wednesday. "What he has already said has given aid and comfort to terrorists."
Trump has shot back at Clinton, saying she has distorted his foreign policy views and that he wants other nations to contribute a larger financial share to security and defense.
"I want Japan and Germany and Saudi Arabia and South Korea and many of the NATO nations — they owe us tremendous. We're taking care of all these people. And what I want them to do is pay up," Trump said in Sacramento Wednesday.
President Barack Obama and Clinton have repeatedly commented on Trump's lack of foreign policy experience and statements that would go against current U.S. policies. After Trump suggested allowing South Korea and Japan to have nuclear arsenals to defend themselves against North Korea, Obama did not hold back in his remarks.
"The person who made the statements doesn't know much about foreign policy or nuclear policy or the Korean peninsula or the world generally," Obama said. "People pay attention to American elections. What we do is really important to the rest of the world."
© Copyright IBTimes 2023. All rights reserved.
FOLLOW MORE IBT NEWS ON THE BELOW CHANNELS