Hillary Clinton 'Super Predators' Video: Black Lives Matter Activists Revive Democrat's Race Controversy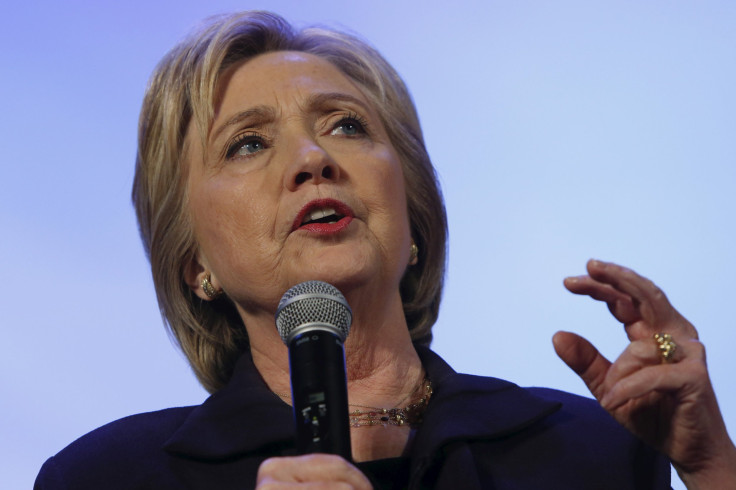 Hillary Clinton's campaign for the Democratic presidential nomination has parked itself in South Carolina, where black voters and surrogates have turned out in droves ahead of the state's Saturday primary. But a single Black Lives Matter protester this week attempted to cast doubts over the former secretary of state's authenticity on racial justice issues in a videotaped faceoff that was going viral Friday.
Ashley Williams, a 23-year-old activist who is African-American and identifies as queer, confronted Clinton in Charleston, South Carolina, on policies she supported as first lady. Those policies, including a 1994 crime bill that worsened the disproportionate incarceration rate among African-Americans, were the Clintons' prescription for the nation's high rates of crime and violence.
In 1996, Clinton spoke about incarcerating "the kinds of kids that are called 'super-predators.' No conscience, no empathy. We can talk about why they ended up that way, but first, we have to bring them to heel."
Williams scrawled the last seven words of her above remarks on a banner and stood inches away from the former secretary of state during a fundraiser in a private Charleston home. "I'm not a super predator, Hillary Clinton," she said after demanding that the Democratic candidate apologize to African-Americans for mass incarceration.
Clinton responded sharply, "we'll talk about it," before someone approached Williams to escort her out of the event. But later, Clinton did offer an apology for her 1996 words, which some critics have noted as racial dog-whistling.
"Looking back, I shouldn't have used those words, and I wouldn't use them today," Clinton said in a statement reported by the Washington Post.
"My life's work has been about lifting up children and young people who've been let down by the system or by society, kids who never got the chance they deserved," the statement continued. "And unfortunately today, there are way too many of those kids, especially in African-American communities. We haven't done right by them. We need to. We need to end the school-to-prison pipeline and replace it with a cradle-to-college pipeline."
Williams told the Post that she chose Clinton's "super predators" remark because she felt it best exemplified the damage the criminal justice system and unfair policing wrought on black communities. Clinton was "pathologizing black youth as these criminal, animal people. And we know that's not right, and we know that's really racist," Williams said.
It's unclear if the reach of the video showing Williams' encounter with Clinton will hurt the candidate among black voters in South Carolina. Recent polls have shown the former Secretary of State easily beating her challenger, Sen. Bernie Sanders of Vermont, among African-Americans, who make up more than half of the state's Democratic primary voters.
Percent of Black Voters Relative to White Voters in Presidential Elections | MooseRoots
© Copyright IBTimes 2023. All rights reserved.