Holiday Bandit identified, police on his trail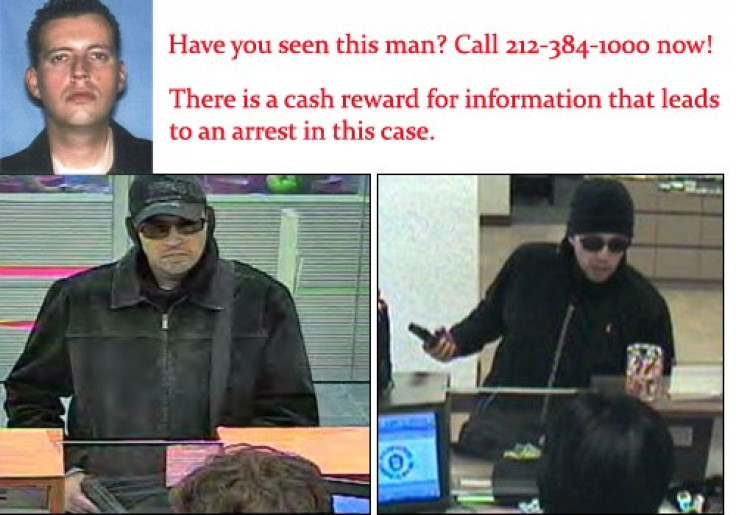 A robber, who has been nicknamed the Holiday Bandit by the Federal Bureau of Investigation (FBI), has been identified as Marat G. Mikhaylich and is being sought after pulling his third bank robbery in the New York City over the past few weeks, the federal authorities said.
On Dec. 30, around 3:30 p.m., the Holiday Bandit, armed with a black handgun, robbed the Sovereign Bank located at 24-29 Jackson Avenue, Queens, New York. It was his third robbery.
The robber had struck twice before - on Dec. 23 he robbed Ridgewood Savings Bank located at 8522 Third Avenue, Brooklyn, New York while on Dec. 9, he robbed Sovereign Bank located at 35-10 Broadway, Astoria, New York.
Mikhaylich robbed the first bank by presenting a demand note to the teller and the other two at gunpoint.
Mikhaylich has been described as a man, approximately 6' to 6'2 tall, around 35 years old and wearing a black hat, black ear muffs, dark sunglasses, a black winter jacket, and dark blue jeans. He is believed to be weighing around 200 pounds. The video surveillance camera of Sovereign Bank on Jackson Avenue in Long Island City showed him brandishing a black handgun and instructing the teller to hand over the money. After obtaining cash, he left the bank.
Through the video surveillance camera footage, FBI agents have linked Mikhaylich to two other bank robberies.
This is no way to ring in the New Year said Diego Rodriguez, Special Agent in Charge of the FBI New York Criminal Division. This repeat offender needs to be caught after committing such a dangerous and violent crime. Someone, somewhere, knows something and we need them to speak up.
Mikhaylich's allegedly robbed several banks using a weapon and this now moves from an investigation to identify him to an investigation to locate and arrest him. The public can assist by looking at the wanted poster and calling the FBI or local police if they have information that can help law enforcement find him. A reward may be available for the tip that breaks the case and callers can remain anonymous said Special Agent Richard Kolko.
FBI officials said that there is a cash reward available to anyone who provides information that leads to an arrest in the case and has asked people to call 212-384-1000 with any information on the robber.
Wall Street Journal said according to FBI spokesman Jim Margolin, total bank robberies in the city were up by four to 222 in 2010 compared to 218 in 2009. Of the bank robberies in 2010, 26 involved the suspects showing weapons, and the rest were note jobs, in which no weapon was shown, Margolin said.
The current robbery is being investigated by the Joint Bank Robbery Task Force, which is composed of FBI agents and NYPD detectives. Operating since 1979, it is the longest continually operating task force in the history of the FBI and investigates major violent crime.
FBI officials have nicknamed Mikhaylich the Holiday Bandit because of the time frame when the crimes occurred.
© Copyright IBTimes 2023. All rights reserved.