Holiday Travel Tips: Expert Advice For Drivers, Fliers And Potential Grinches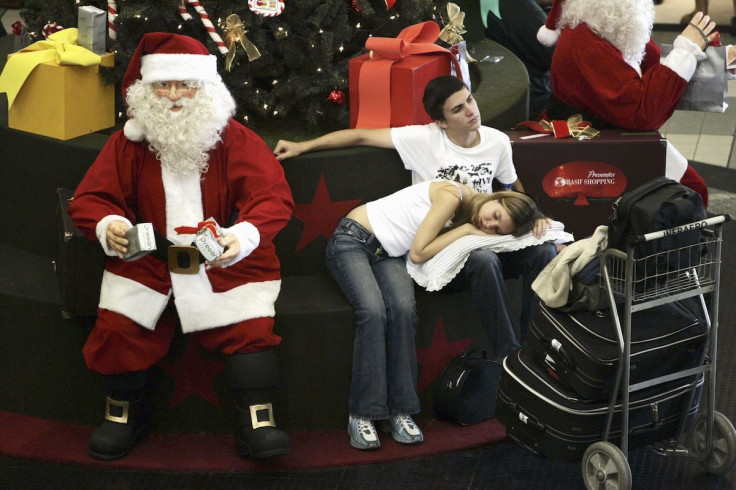 Tips For Holiday Motorists
Thanks to the relatively low cost of gas and a calendar date favorable for longer trips, AAA expects 85.8 million Americans to hit the road over the 2013 holiday season. That's nearly a third of the population and more people than ever before, making the week ahead the busiest on record for year-end travel.
If you're one of the 91 percent of Americans heading away by car, this news could easily put a damper on your holiday spirit. But AAA's Heather Hunter offered International Business Times five tips to help travelers skirt the traffic, cut the stress and leave home prepared for the journey.
1. Try to avoid traveling through major cities during peak travel times. However, with nearly 85.8 million people traveling by car next week, the roadways will be crowded.
2. Leave yourself plenty of time to arrive at your destination safely, and be sure to make frequent stops about every 100 miles or two hours to remain alert.
3. Be sure to drive distraction-free and keep your mind on the task of driving. Mental distractions can lead to a type of tunnel vision or inattention blindness.
4. Be sure your vehicle is road trip ready. AAA expects to rescue 3.76 million motorists during the year-end holidays, with the primary reasons for breakdowns being flat tires, dead batteries and lockouts.
5. Plan your trip in advance and make sure all your precious cargo, including your kids and your pets, is properly secured in your vehicle.
Tips For Holiday Fliers
Airlines for America, or A4A, predicts 44.3 million Americans will fly on U.S. airlines during the 21-day holiday travel period ending Jan. 5, an increase of approximately 2 percent over last year. A4A said airlines are using larger aircraft and adding seats to the market to keep up with demand.
The industry trade group's forecast shows planes at between 80 percent and 90 percent full over the holidays, with Dec. 20 (Friday), Dec. 27 (Friday), Dec. 26 (Thursday) and Jan. 3 (Friday) being the busiest days respectively. Popular vlogger and current Hyatt Place Seamless Travel Series expert Sonia Gil offered IBTimes five tips to deal with the manic days that lie ahead at a U.S. airport near you.
1. Skip long security lines: Contact your airline and find out if you are eligible for TSA PreCheck. This gives you access to a special security line where you don't have to take off shoes, deal with laptops, etc. Keep an eye out because soon anyone will be able to apply for this.
2. Use compression bags to streamline winter packing: If you can only travel with a carry-on and are packing for colder weather, compression bags are inexpensive, easy and cut down the space that sweaters, jackets and holiday gifts take up.
3. Pack fresh clothes in your toiletries bag if you check your luggage: In December, the chances of your luggage being mishandled increase considerably. In 2012, it increased by about 25 percent! Plus, you'll have more room for clothes if you stay at a hotel like Hyatt Place, which offers the Odds & Ends program -- allowing you to borrow or buy forgotten items on the road such as curling irons, chargers, razors and more.
4. Always check in online to avoid unnecessary lines: Most airlines allow you to do so 24 hours in advance, so save time and stress by coming to the airport with your ticket printed. If you have luggage, the airline will probably have a line dedicated to luggage drop-off.
5. Use your airport time wisely: Instead of walking around and spending money on things you probably don't need, sit and catch up with friends and family that you don't talk to enough. Say happy holidays and that you are thinking of them. You're guaranteed to win major points.
Tips For Dealing With Holiday Stress
A survey out earlier this month revealed that the majority of Americans find the December holidays to be the most stressful time of the year to travel, with the biggest stressors being airline delays and cancellations, inclement weather and the price of transport.
The American Psychological Association found in a separate study that women in particular are prone to becoming worrywarts over Christmas and New Year's -- all in an earnest attempt to make the holidays the best they can for their families. With that in mind, CheapAir.com Social Media Manager Jeremy Bryant offered IBTimes six tips to cut the edge and ensure this holiday season is a time of cheers (not sneers).
1. Prepare for a busy day: It's pretty much a given that traveling during the holiday season will be busy. Be prepared for traffic on the way to the airport. Travelers should expect longer lines everywhere and possible flight delays, most likely due to weather.
2. Travel light: No one wants to lug gifts around the airport. Save money, time and stress carrying those gifts and simply mail them ahead of time. There are many services like the U.S. Postal Service that can ship your gifts for a fraction of the cost for extra bags.
3. Eat before you get to the airport: Eating at the airport can be more expensive and you may deal with long lines. The same goes for buying snacks. Take some extra time prior to arriving at the airport to eat a filling meal or stop for snacks. Keep in mind all food must go through the X-ray machine. Do NOT bring food to the security checkpoint unwrapped. Unfortunately, no drinks greater than three-ounce containers are allowed.
4. Get dropped off and picked up: This may not apply to everyone, but getting dropped off and picked up at the airport can save you time and money. If you can arrange it, you can avoid paying for parking or a cab ride.
5. Bring entertainment other than your phone: Your phone is probably your go-to gadget for entertainment, but don't rely on using it all day. Let's face it, cell phones need battery life and Wi-Fi. Power stations can be found in the airports, but they'll most likely be used by fellow travelers. Access to Wi-Fi may be free at the airport, but it can cost you while flying. Bring alternate forms of entertainment like a book or games for the kids to play.
6. Take alcohol to drink on your flight: Travelers are allowed to take little bottles of alcohol that are three ounces or less through security (why not?), as long as they fit in a clear one quart bag. By purchasing your alcohol ahead of time rather than buying it on-board, travelers can save a little money and still get in on the holiday cheer.
© Copyright IBTimes 2023. All rights reserved.