Hollande And Merkel: Can They Find A Compromise?
ANALYSIS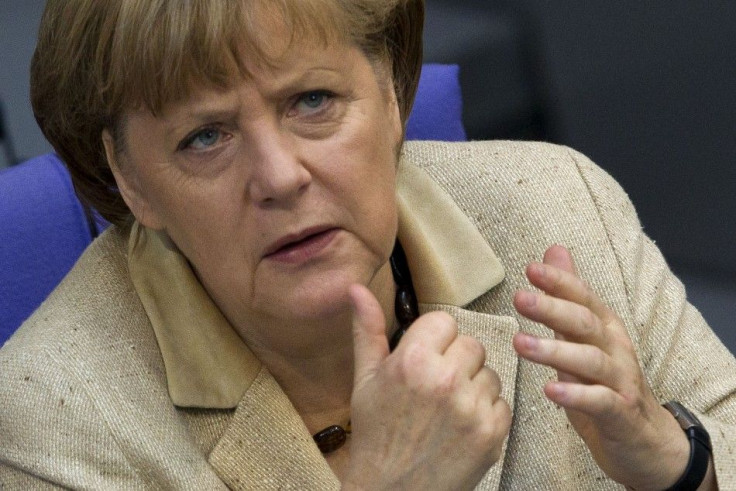 Only one week after his triumphant defeat of Nicolas Sarkozy in France's presidential election, François Hollande now faces a less-than-appetizing meeting with the most powerful woman in Europe, German Chancellor Angels Merkel, on Tuesday.
Hollande, the Socialist who ran on an anti-austerity program during his campaign, may not find much sympathy with Merkel, who, along with Sarkozy, strongly urged European governments to drastically cut spending in order to reduce debt loads across the continent.
In contrast, Hollande, riding a wave of anti-austerity sentiment in France, vowed to create thousands of new public sector jobs and scale back austerity measures his predecessor championed. He also wants the euro zone fiscal pact re-written -- something Merkel has adamantly refused to do.
On Monday, Hollande told reporters that the meeting with Merkel will be about saying very frankly what we think, not about each other, but about Europe's future … We don't think the same on all subjects. We'll tell each other that so that together we can reach good compromises.
Merkel herself may find her intransigent position on austerity somewhat compromised by electoral defeats her Christian Democrat Union (CDU) party suffered in local elections in the key state of North-Rhine Westphalia over the weekend. The CDU's big losses raises questions about the German public's own commitment to financial belt-tightening.
No one is buying anything anymore in Europe, Hollande spokesman Benoit Hamon said on Sunday.
We want Mrs. Merkel to hear this message … We didn't have an election to get a European president called Mrs. Merkel who has the power to decide everyone else's fate.
But Germany remains the dominant force in Europe, no matter who won the French election.
Charles Grant, director of the Centre for European Reform, wrote: France has much less clout in the EU than Germany. The financial crisis and the euro crisis have highlighted the vulnerabilities of the French economy: its waning competitiveness.
Hollande, who has been criticized for having a mild personality, may also seek to change that perception by talking tough with his German counterpart.
Hollande has adopted a sharp tone ahead of his meeting with Mrs. Merkel later this week, but that is probably because, having presented himself as an emollient personality, he does not want to appear weak in international negotiations, said Stephen Lewis, an analyst with Monument Securities, to Associated Press.
Meanwhile, analysts are pondering the question "is austerity dead?," in the wake of elections in France and Greece in which the majority of the public clearly stated they want to see an end to budget cuts.
"Austerity is not dead in Europe, as most of the European economies still have to reduce their debt burdens," said Vincent Forest, economist at The Economist Intelligence Unit (EIU).
"However, the results of the French and Greek elections send one clear message: austerity alone is no longer a solution. But this is something that became evident in the last year or two, with several countries falling into debt spirals. Fiscal tightening has 'contractionary' effects affecting public revenue, so that the debt-to-GDP ratio never reduces while the economy suffers. The sentiment in Greece is therefore very negative and adding up further painful measures will be difficult."
With respect to France, Forest said that Hollande wants to focus on growth through more government spending. However, he does not think such a stance would necessarily kill France's cooperation with the euro zone's mandate in tightening austerity nor make Frances debt profile even worse.
"Hollande wants more growth, but he is also committed to fiscal discipline and intends to keep government spending stable," Forest noted.
"France's debt picture is relatively dark, and he is well aware of it. His government will therefore probably adopt a similar position to the one [former Socialist Prime Minister] Lionel Jospin adopted 15 years ago and focus a lot of effort on reducing public debt."
Still, the euro zone's strategy on focus on austerity will likely be debated again.
"Hollande has been given a clear mandate by the French to balance the current approach in Europe," Forest added.
"But he is also well known for [seeking] consensus, and is therefore expected to strike an acceptable deal with his partners, including Germany."
Forest adds that some of Hollande's economic proposals for France (including the hiring of 60,000 teachers, hiking minimum wage, raising taxes on big corporations and millionaires, scaling back retirement age, etc) are quite moderate in their scale and effect.
"Scaling back the minimum retirement age will affect only few people, and so will his new top tax rate," he said.
"The 60,000 teachers he intends to hire over the next five years will come from a human resources reshuffling, as he said he would keep the number of civil servants constant. It is therefore likely that he passes most of these measures."
Forest concluded: "The type of measures that will probably prove more difficult to pass, such as the overhaul of the fiscal system, will, however, be the most beneficial to the economy."
© Copyright IBTimes 2023. All rights reserved.