Hollywood Condemns Violence Of Trump Supporters, Calls Them 'Domestic Terrorists'
KEY POINTS
Sacha Baron Cohen, Lulu Wang and more celebrities voiced their opinions on one of the darkest days in American history
The celebrities called the rioters "domestice terrorists" and said they all should be put in jail
Selena Gomez said the officials of social media platforms failed the people of America
A plethora of Hollywood celebrities and media figures have come out in condemning the violence that erupted in Washington, D.C. after supporters of President Donald Trump breached the U.S. Capitol and disrupted the Senate debate.
Sacha Baron Cohen, Lulu Wang, Ben Stiller, Michael Keaton, Ava DuVernay, and more took to social media and expressed their anger toward the current administration and President Donald Trump.
Cohen tagged Facebook CEO Mark Zuckerberg, Google CEO Sundar Pichai, Twitter CEO Jack Dorsey, and YouTube CEO Susan Wojcicki and urged them to permanently "ban" Trump from their respective platforms for inciting a violent attack on "American democracy."
"Hey, Mark Zuckerberg, @jack, @SusanWojcicki, and @sundarpichai – Donald Trump just incited a violent attack on American democracy. Is that FINALLY enough for you to act?! It's time to ban Donald Trump from your platforms once and for all," Cohen tweeted.
Keaton criticized the law enforcement authority for not taking any necessary steps when the rioters breached the Capitol. He also recalled the moment when he was chased while protesting against the war in the 1970s.
"I was chased and run through tear gas demonstrating against the war in the 70s. What the police DIDN'T do today was shocking. They sure were ready during the BLM demos which was peaceful," Keaton stated.
On the other hand, DuVernay shared photos of the terrifying incident along with the quote Trump said while addressing the rioters in one of his videos.
Shonda Rhimes and Cynthia Nixon requested the media to not call them "supporters" or "protestors" and instead label them as "domestic terrorists."
Mark Ruffalo wanted Mike Pence to invoke the 25th Amendment amid all the chaos. The 25th Amendment of the U.S. Constitution states that if the president is unable to do his job, then the vice-president becomes the president.
CNN's chief White House correspondent Jim Acosta also called out the rioters and said, "Storming the capitol is not patriotic."
Musician Selena Gomez also shared her opinion on the entire situation and slammed all the social media platforms for "failing" the people of America in the wake of the riots.
"Today is the result of allowing people with hate in their hearts to use platforms that should be used to bring people together and allow people to build community. Facebook, Instagram, Twitter, Google, Mark Zuckerberg, Sheryl Sandberg, Jack Dorsey, Sundar Pichai, Susan Wojcicki – you have failed the American people today, and I hope you're going to fix things moving forward," Gomez wrote.
Here are some more social media reactions from notable personalities: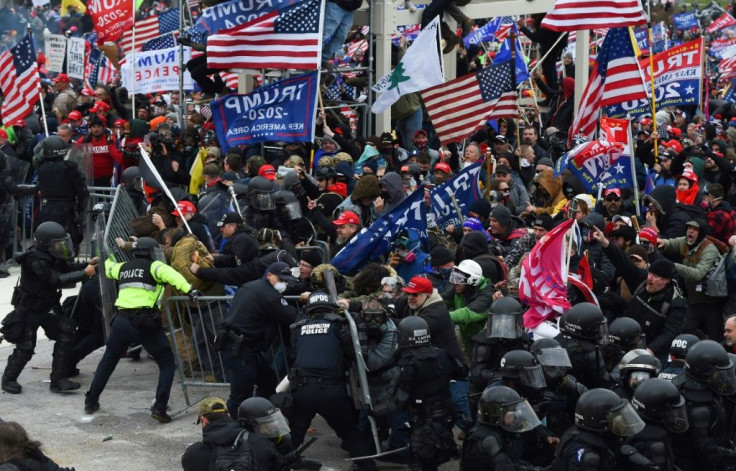 © Copyright IBTimes 2023. All rights reserved.