Hollywood Sign Changed To Hollyweed, But This Isn't The First Time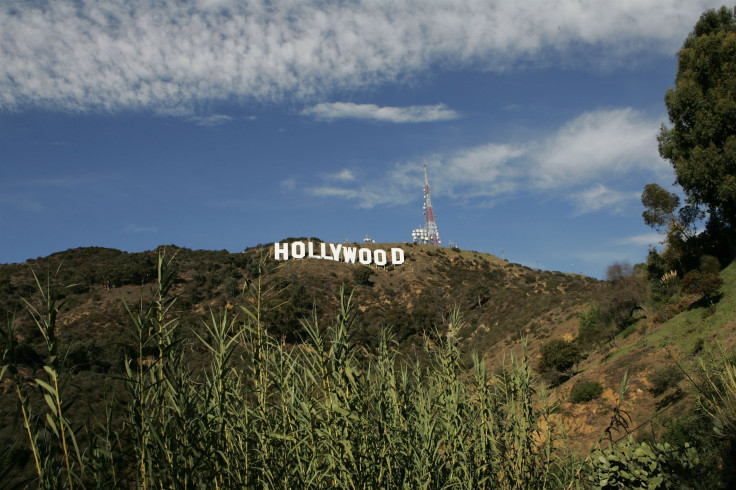 Folks in Los Angeles woke up Sunday to a bit of surprise hanging over their town. The iconic Hollywood sign atop Mt. Lee read "Hollyweed," leaving many to question what exactly happened in the darkness of New Year's Eve.
The Los Angeles Police Department's Hollywood Division told KABC that they were aware of the vandalism and had sent officers to investigate the sign. A hiker named Alvin Kim, meanwhile, told the news station that it was "pretty cool" as he posed Sunday for a photo in front of the altered sign.
A number of people posted pictures of the sign, most questioning if it was the result of some elaborate prank. It isn't the first time the Hollywood sign has been altered in an apparent reference to marijuana, however. In 1976, prankster Danny Finegood and some friends hung curtains to obscure parts of the sign to make it read "Hollyweed" in honor of a new law on pot that made restrictions more lax. A folk song was even written in honor of the prank, the lyrics going, "Hollyweed, USA, now it's finally safe to take a little toke."
Finegood would go on to change the letters of the sign three more times, once to "Holywood" to celebrate Easter, again to "Ollywood" to protest Marine Lt. Col. Oliver North during the '87 Iran-Contra hearings and to "Oil War" in 1990 to protest the Persian Gulf War, according to the L.A. Times. Finegood died in 2007.
"An artist's role throughout history has been to create representations of the culture he exists in. By hanging four relatively small pieces of fabric on the landmark, we were able to change people's perception of the Hollywood Sign," he and his collaborators wrote in a letter to the Times to argue against the paper describing the act as vandalism.
The "Hollyweed" wordplay is apparently a staple in the L.A. lexicon. Director Kevin Smith wrapped filming in January 2016 on a show titled "Hollyweed" that will be centered on the marijuana industry in L.A. There's also a marijuana dispensary with the same name in L.A.
Whoever altered the sign to help ring in 2017 apparently used a method similar to Finegood's. TMZ reported that tarps were used to block out portions of the sign. The website also reported that there are security cameras at the site, which police plan to use to catch the culprit.
© Copyright IBTimes 2023. All rights reserved.
FOLLOW MORE IBT NEWS ON THE BELOW CHANNELS