Holy Week 2015: Millennials Embrace Lent As New Social Media Trend, Christian Leaders See Potential New Followers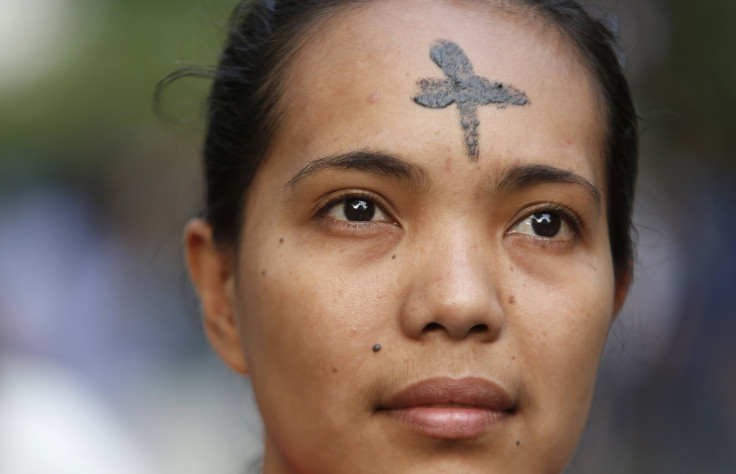 Trinh Truong tried to break up with baklava last month. The 17-year-old high school senior gave up the dessert, her go-to bad-day food, for Lent this year. Though her family is Catholic, it was Trinh's first time sacrificing something for the annual 40-day observance. She's agnostic but wanted to get some perspective about what it feels like to go without something. "It wasn't religious for me," she said. "It was more about humility."
Young people across the world, both practicing Christians and not, are increasingly embracing Lent rituals and posting about it on social media in a move that contradicts mounting research about their generational disdain for organized religion. Some fast because they're devout Christians. A few see Lent as an opening to participate in religion without going all in. Others, like Trinh, want to test themselves or breathe new life into their failed New Year's resolutions. This year, the top most-mentioned Lent sacrifices on Twitter included school, chocolate, alcohol and swearing.
"They don't feel like they have traditions, and they want to reinvigorate that in some fashion," said Richard Flory, director of research at the Center for Religion and Civic Culture at the University of Southern California. "This link back into history gives structure and … a sense of something around which you can gather with other people."
The process of giving up luxuries -- or repenting sins -- during Lent has long been a way for Christians to get closer to Christ. Only 57 percent of millennials said they were aware Lent was happening last year, but more of them planned to fast than Generation Xers or Baby Boomers, according to a survey by the Christian polling company Barna Group. Overall, one-third of millennials claim to have no religious affiliation, according to a separate survey released Friday, and Lent can be a chance to dip their toes in the water. It's a defined, easy-to-remember observance, so it's popular with millennials who pick and choose which parts of religion they want to endorse, Flory said.
For example, many youth who consider themselves Catholic don't have the time or desire to attend church regularly. But when Lent rolls around, they see it as a "yearly opportunity to demonstrate whatever that Catholic-ness is," he said.
Even without a religious upbringing, young people understand the discipline involved in sacrificing Chipotle or Netflix for a month. "It's sort of an ancient adaptable practice," said Barna Group's vice president of publishing, Roxanne Stone. "[It] has a lot of appeal to millennials because it can affect them on a very daily basis in a very relevant way."
There's also a low level of pressure involved. It's up to each person to determine their level of commitment to Lent, said Mary Claire Doyle, president of the Newman Catholic Student Association at Pennsylvania State University. That's encouraging to people who are still figuring out how they feel about religion.
Doyle gave up drinking alcohol for Lent, but some of her friends just promised they'd say a Hail Mary prayer whenever they craved beer. Many students see it as another shot at New Year's resolutions. "Just knowing that there's a time frame where you can work really hard and achieve a goal is much more attractive," said Doyle, 22.
The ubiquity of social media has also helped introduce many young people to Lent fasting. For some, it has become another common experience to discuss online, along the lines of sharing a photo of your lunch or posting a selfie of your Friday night outfit. Since the Lent season began last month, thousands of youth have taken to Twitter and Instagram to complain and commiserate about their sacrifices. Colin Nykaza, the director of young adult outreach at the Catholic Archdiocese of New York, said that on Ash Wednesday, his Facebook "blew up" with #ashtag selfies.
As Holy Week started Sunday, Twitter was ripe with messages about Lent. About 3,800 users posted messages Sunday night and Monday morning that included the word "Lent," according to tracking service Topsy. Some wrote about how their sacrifice hadn't lasted. "I broke part of my lent promise. I'm disappointed," wrote lsaauraa. Others counted the time remaining. "Only 4 more days of being coffee-free," joked FadiDidi. "Next time I observe #lent, I'll do something less destructive -- like give up clothing, or oxygen."
Campus ministries often see an uptick in attendance around Lent. At Rutgers University in New Jersey, regular Sunday Mass typically draws about 700 people. On Ash Wednesday, more than 1,800 showed up -- a fact the Rev. Joe Donovan, of the Catholic Center at Rutgers, attributed in part to students who wore the ash on their foreheads to class to remind their peers what day it was. He said the basic sense of community that results from shared rituals increases Lent's popularity and can sometimes inspire students to attend church regularly. "It gets in the air," Donovan said.
FOR FREE to continue reading
✔️ Unlock the full content of International Business Times UK for free
offer available for a limited time only
✔️ Easily manage your Newsletters subscriptions and save your favourite articles
✔️ No payment method required
Already have an account?
Log in
© Copyright IBTimes 2023. All rights reserved.