'House Of Cards' Season 4 Premiere Date Released; 7 Political Dramas To Binge Watch On Netflix Until Frank Underwood Returns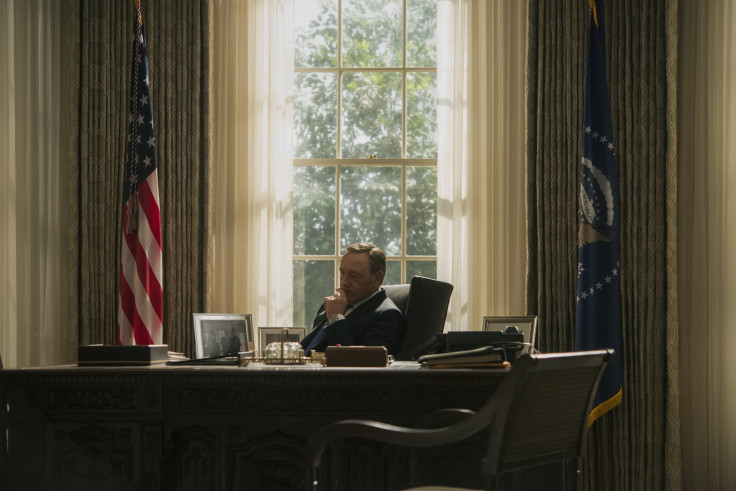 President Frank Underwood (Kevin Spacey) has a few words to say to the American people -- and we think you're going to like them! On Tuesday night, the "House of Cards" character made an exciting announcement during CNN's Republican presidential debate, unveiling the Season 4 premiere date of the Netflix political drama.
Along with the news that Frank, Claire (Robin Wright) and all your other favorite Washington D.C.-based politicians would be returning to the small screen on Friday, March 4, the fictional Commander-in-Chief also revealed his very own campaign for the impending 2016 election.
The campaign video, which appeared during a commercial break of the GOP debate, revealed just how President Underwood was "putting people before politics" as well as securing jobs for citizens. But as the patriotic soundtrack began to intensify, Frank abruptly slams a book shut, cutting off the tune to say: "America, I'm only getting started."
But until President Underwood takes over the small screen in the spring, here are a few political thrillers you can binge watch on Netflix while waiting for the premiere of "House of Cards":
1. "The Butler" -- The Lee Daniel's historical drama, starring Forest Whitaker as Cecil Gains, tells the story of a man who receives the opportunity of a lifetime to work as a butler at the White House after leaving the south.
2. "Jack Strong" -- This 2014 flick focuses on Polish colonel Ryszard Kuklinski (Marcin Dorocinski) and how he risks his life at act as a spy to help the CIA during the Cold War.
3. "The Long Walk Home" -- Takeing place in Alabama during 1955, two women, black and white, build a controversial friendship when Miriam Thompson's (Sissy Spacek) nanny, Odessa Carter (Whoopi Goldberg) takes part in the Montgomery bus boycott.
4. "The Perfect Dictatorship" -- A political satire, created by Luis Estrada, that focuses on two reporters spinning the government's corrupt image.
5. "Political Animals" -- The TV series, starring Golden Globe-winner Sigourney Weaver, explores politics from the point of view of a former first family.
6. "The Iron Lady" -- The biographical film tells the story of the eventful life of Margaret Thatcher (Meryl Streep), the longest-serving Prime Minister of the United Kingdom.
7. "Carlos" -- The 2010 miniseries follows the life of Carlos the Jackal (Ilich Ramírez Sánchez), a Venezuelan revolutionary, during the 1970 Revolutionary Left Movement.
© Copyright IBTimes 2023. All rights reserved.