How Anti-Trump Protest Organizers Are Bracing For Racism, Violence In New Grassroots Civil Rights Movement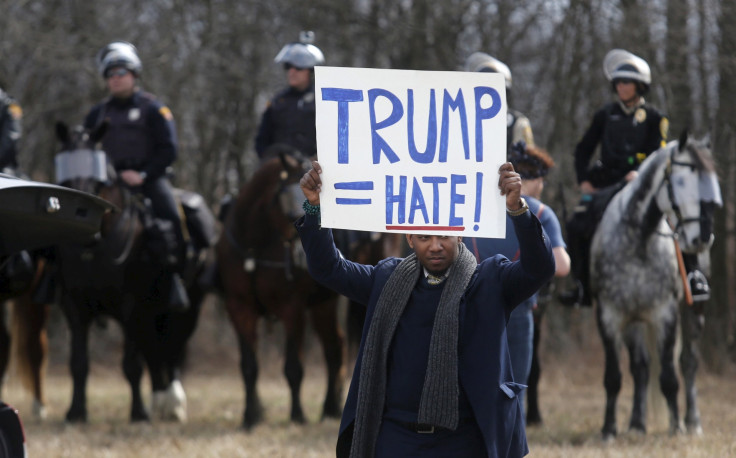 It was nighttime when a small group of young activists in North Carolina gathered in a basement, concerned about hateful and racist rhetoric being expressed by politicians. With a plan to confront a rally of those candidates and their supporters, the group rehearsed how to withstand verbal assaults and physical violence and strategized ways to remain nonviolent and keep each other safe.
While that may sound like African-American civil rights leaders planning to protest racial segregation in the Deep South of the 1950s and 1960s, it was actually a gathering of grassroots, nonpartisan organizers ahead of Republican presidential candidate Donald Trump's rally last week in the city of Fayetteville. The preparation was necessary given increasing incidents of violence at Trump's campaign events, said Todd Zimmer, one of the North Carolina organizers.
"We took turns yelling, pushing and pulling each member of our team," he said Monday in a phone interview from Trump's rally in Hickory, North Carolina. "We had to see what we could do to support each other and maintain our composure in the face of violence."
Organizers of those and other anti-Trump protests across the country said their actions are as inspired by the civil rights activists who confronted American racism decades ago as they are by Trump's divisive rhetoric, which has been matched by violent altercations at his rallies. With more protests planned, they said they want to use nonviolent methods to confront the structural and institutional racism they say Trump promotes through his speeches and policies, which have seemingly energized a growing group of his supporters.
"Our first concern was safety for our communities," said Ethos Viets-Vanlear, a young African-American organizer in Chicago, where Trump abruptly canceled his rally Friday evening due to the large number of demonstrators inside and outside of the rally venue. "Muslim, black, Latino and undocumented students and the faculty were fearful for a Trump rally and what Trump supporters might do."
Viets-Vanlear, a 21-year-old urban education major at the University of Illinois, Chicago, where the rally was to be held, said he and other student leaders tried to get Trump's rally canceled through a student-led petition drive. When that didn't work, organizers and students managed to acquire more than 100 free tickets to the rally and split off into coordinated groups to nonviolently disrupt the event. "Our goal was for Trump not to speak, and we achieved our goal," he said.
There were some physical skirmishes between protesters and Trump supporters inside of UIC Pavilion. Outside, police were trying to prevent hundreds of gathered demonstrators from clashing with Trump supporters leaving the venue.
A series of interviews with activists around the country revealed that similar tactics had been organized through social media chatrooms and local meetups before Trump rallies in several states. There was violence and police activity at Trump rallies in Kansas City, Missouri, where police demonstrators were pepper-sprayed outside of the venue Saturday; in St. Louis, where protesters and Trump supporters clashed inside and outside of the venue Friday; in Fayetteville, North Carolina, where a black protester was sucker-punched by a white Trump supporter who was criminally charged in the incident last Thursday; and in Louisville, Kentucky, where an African-American teenager was shoved around by a group of white men.
Trump, who has downplayed his role in encouraging violence at his events, was expected to hold rallies in three states Monday, including an event at Ohio's Youngstown–Warren Regional airport that evening. Ohio and four other states vote in primaries Tuesday.
The billionaire real estate mogul and reality TV star launched his campaign promising to crack down on illegal immigration with mass deportations and a Mexican border wall, broker new international trade deals that bring working-class jobs back to the U.S. and take aggressive measures against the nation's foes. In his announcement last June, he disparaged Mexican immigrants as "criminals" and "rapists." Last December, following terror attacks in Paris and San Bernardino, California, Trump called for a temporary ban on all Muslims traveling to the U.S. He has also disparaged American POWs, women, Asian businessmen and African-Americans.
While pundits at first said Trump's rhetoric would doom his campaign, he only saw his front-runner status bolstered by primary victories built on a following of angry, overwhelmingly white voters. He was denounced by Republicans and Democrats alike for seemingly hesitation to disavow support from white supremacists like former Ku Klux Klan leader David Duke, to little effect.
For anti-Trump organizers, it was important that black and brown millennials were seen taking the lead in many of the protest actions staged at Trump rallies, with white allies playing a support role. Jade Wood, an African-American organizer in St. Louis, said leveraging the experience of organizers from different communities helped highlight where the movement can grow.
"I'm very satisfied with the diversity," said Wood, who also wished there was more African-American participation. "My reason for participating is so that my peers can see that it's still necessary and how close the racism and the danger is to home."
Colleen Kelly, a St. Louis organizer who worked with Wood, said the white people participating in the anti-Trump actions needed to be there to contrast with the lack of diversity among Trump's supporters. "We're following black leadership and the standard that they've laid down, but we're also saying it would be cool to get white people in there and really trying to push against the narrative," she said.
Activists also noted the parallels between their actions and demonstrators during the civil rights movement, when integrated groups of Freedom Riders sat down at whites-only lunch counters in the South. In both instances, they prepared themselves mentally and physically to show tremendous restraint in the face of racist violence and segregationist laws, something emphasized by Robert Widdell, an associate professor of history at the University of Rhode Island in Kingston.
"[The protesters are] attempting to expose for a public audience the violence that is at the heart of a political, economic and social system," said Widdell, whose research is centered on African-American social justice movements. "This is more than simply rhetoric or policies. They are exposing what is at the core of what Trump is saying and the implications of what he's doing."
He added: "It's also a reminder of the kind of everyday work that goes into mobilizing. That takes a lot of work, a lot of time and it's tedious. But it's something that is crucial and vitally important."
© Copyright IBTimes 2023. All rights reserved.