How Did 'CSI' End? Emotional Conclusion For Gil Grissom And Sara Sidle [SERIES FINALE RECAP]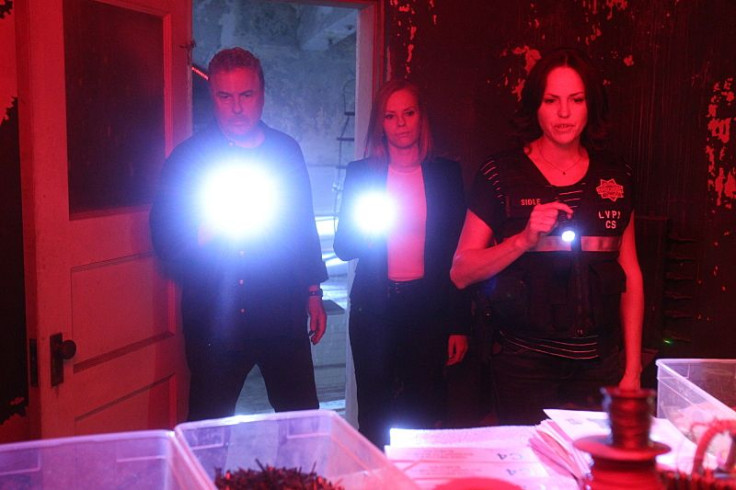 Most network TV shows are premiering new seasons this month, but "CSI: Crime Scene Investigation," the original in the "CSI" franchise, took a bow on Sunday. The long-running CBS procedural, which concluded its 15th season back in February, came to an close with a two-hour TV movie, titled, "Immortality." How did it all end in Las Vegas?
There were many familiar faces in Sunday's big finale, including Sanders (Eric Szmanda), Brass (Paul Guilfoyle) and Willows (Marg Helgenberger), but none were more notable than the return of Gil Grissom (William Peterson) and Sara Sidle (Jorja Fox). The formerly married couple reunited – Grissom was now a marine investigator, while Sidle hoped to take over the Las Vegas crime lab – to take on the case of a string of connected suicide bombings.
The bombings all had a common link – Lady Heather (Melinda Clarke), the dominatrix/therapist who had previously been Grissom's emotional confidant. Sidle, who had an understandable grudge, believed Lady Heather was guilty, but Grissom had another theory. It turned out that Lady Heather's clients were being brain washed via a South American flower called Devil's Breath and the culprit was a jealous former client, Betten (Doug Hutchinson).
Grissom and Sidle tracked down and confronted the cancer-stricken Betten, where Grissom's 52 Hertz Whale speech helped the killer realize that it was his own emotional and communication issues that prevented him from getting the love from Lady Heather (or anyone else) that he wanted in his life.
Watch Grissom and Sidle rekindle their romance below:
Then, it was time for Grissom to reflect on his own love life in a case-formality debriefing interview with Lady Heather. Grissom thanked Lady Heather for helping him learn to love someone again – Sidle, whom he said "restored his faith in the human being." After being pushed to watch the video of the interrogation, Sidle went to catch Grissom before he took off on his boat and the two science lovers were back together again!
Meanwhile, Willows ended up snagging the big job at the Vegas crime lab, while Russell (Ted Danson) will have a new gig on " CSI: Cyber."
What did you think of the "CSI" finale? Tweet your thoughts to @Ja9GarofaloTV.
© Copyright IBTimes 2023. All rights reserved.